You may remember a few months ago we and a few other sites published info about the Ergo Electronics Android powered Netbook. It never really materialised, but strangely UK retailer Misco have some in stock and they're classed as open box already. Upon further poking around they have have brand new ones for £132 and quite a few open box ones for £118.80 plus delivery. See this page here for details.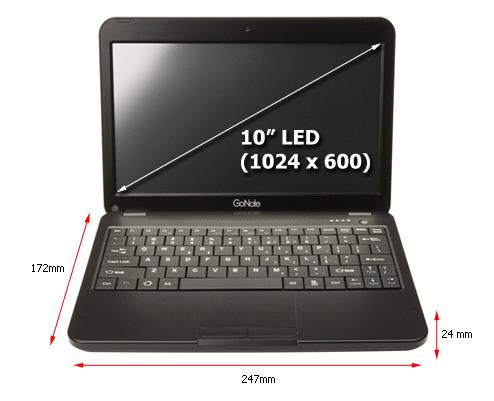 The GoNote caught my attention as it has Ice Cream Sandwich and a whole load of connectivity options including USB ports and Ethernet. The screen is resistive though so don't expect much gaming action with this.
Spec wise the GoNote offers the following:
ARM Rockchip RK2918 CPU – 1.2GHz
1GB RAM / 8GB Onboard Storage
Intel® Graphics Media Accelerator 950
Android® 4 Operating System
802.11 b/g/n high speed wireless
RJ45 Ethernet 'cable' Broadband Input
10 inch diagonal display 1024 x 600 pixel resolution Full Colour LED Backlit Screen
2 finger Resistive Touchscreen Technology
QWERTY Keyboard & Function
Mouse Touchpad L&R Mouse Button inputs
Supports Resistive Stylus input (stylus not included)
Video – Play Full 1080p HD Movies
Output Video to your TV/Monitor via HDMI (cable not included)
VGA Front Camera- for Hangouts and Skype video calls
4 x USB 2.0 Ports – high-speed file transfer
Mini HDMI v1.3 Port – output HD videos to your TV
Micro SD Card Slot – expand your storage (max 32GB)
3.5mm Audio Port – play music to earphones or speakers
3.5mm Mic Input- use a microphone to record Audio
Dimensions (WxDxH) 172 x 247 x 24 mm
Weight 970 g
I wouldn't expect much from this, but if you want a cheap laptop style device for leaving round the house this could be for you, with WiFi you would get push emails etc. With the connectivity options you could use this for watching TV or Films around the house. Either way it is quite a bargain, as long as you approach it with an open mind.
Source – Misco