It's 20 whole years since the first text message was sent and, despite data-enabled phones and always-on email, we're still sending a huge amount of texts. Tech start-up "inZair" has just launched an app called ZMS. It's completely free and available for both Android and iOS. The texting app lets you specify when and where to send messages, plus you can send group messages easily too.
There's full details on their website, but it could also mean a less texts sent whilst driving. Yes, we know people do it. They shouldn't, but believe me, I've seen too many people on the motorway texting at the wheel. With this, you simply schedule a text to be sent when you arrive in an area. So you could say, "I've just arrived" and then send your location automatically. You can even use it as a reminder system – perhaps even send "Happy Birthday" text messages automatically 🙂
Click on for the full details.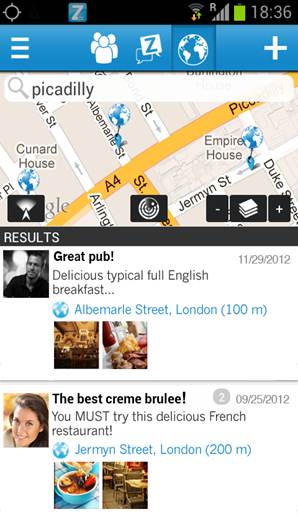 New application allows users to choose when and where recipients receive messages
London, UK; 3rd December 2012 – Tech start-up inZair, has launched its first app, ZMS, a messaging application which could revolutionise how people communicate on their smartphones. ZMS, which is available on Android and iOS, is a free to download app which aims to give users greater control over how they communicate, by specifying the time and/or the location that recipients receive their text, picture, video or voice messages.
The messaging app boasts a range of features including:
Access to the ZMS community – where users can exchange information about their local area or post messages
Free, real time instant messaging service with group chat functions
Request and receive location updates from other ZMS users
Easy to use security functions to keep information private and control what data is sent or received
Synchronisation of contacts with phone address book
Nourredine Rouibah, founder and CEO of inZair, said: "Over 200,000 text messages are sent worldwide every second, yet, text messaging itself has scarcely changed in the last 20 years. The unique appeal of ZMS is that it offers users complete control, not only on what time their message is received, but also on the location.
"The app has a range of features including instant messaging, location prompting and access to the ZMS community. We also know how important security is to our users, which is why there are easy to use privacy settings and receiving information is strictly on an opt-in basis."
inZair was founded by Nourredine Rouibah, Axel Deblasi and Dominique Chion in 2011 and aims to disrupt the SMS industry by introducing next generation mobile messaging products with innovative features. In the future, ZMS users will be able to opt-in to receive messages from their favourite brands or public services. In return they can expect exclusive offers, including invitations, vouchers, as well as location-relevant information.
ZMS is available on both tablet and smartphones and has already been downloaded in 55 countries. To download the free ZMS app visit your app store or the inZair website.