The eagerly awaited budget Windows Phone 8 device from HTC has finally arrived on our shores to buy. As usual there is a problem though, the 8S is only available on a Vodafone contract.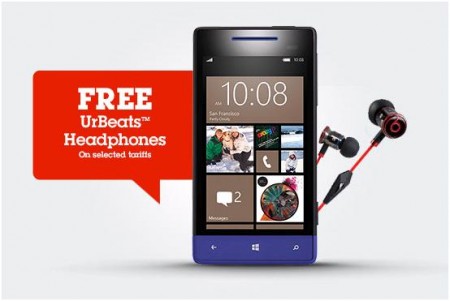 Phones 4U are the first retailer to actually get some stock of the 8S and it's a shame they haven't allocated any to SIM free or PAYG. If you want an unlocked 8S you're probably going to have to wait about another week. Other retailers keep mentioning the 5th of December.
The HTC 8S is an interesting one. No real reviews have appeared yet and no one is 100% sure how this is going to be in real life. As it has less RAM and less internal memory than the other Windows Phone 8 devices. It does have a MicroSD slot though so if your wanting a decent sounding MP3 Player then this might be the one for you.
The contracts are either £21 or £29 per month and the come with a pair of Beats headphones to take advantage of the Beats Audio built into the 8S. So if you're interested head over to the product page at Phones 4U and sign up for a new contract.
Source – Phones 4u