Bear with me on this, because this thing could just blow your mind. Well… if not it'll at least rock the mobile market a bit. Imagine you're about to travel abroad and want to use your phone or MiFi out there for keeping connected to the web. You're going to have to remortgage your house to pay for the data. Sure, there's roaming packages available, but it can still quickly become expensive if you want to use a good amount of data.
I recently received an email from Globalgig. They're launching a service that'll let you go abroad with a MiFi and use data at…. frankly quite reasonable rates.
The MiFi, as you may or may not know, is basically a little box that grabs the mobile signal and beams it out as a WiFi hotspot. The system should remove all those mental roaming data costs because (and get this) they tell me that you can have monthly bundles of….
1GB for £15
3GB for £25
5GB for £35
OK, there's £79 for the "Globalgig Hotspot" (the MiFi) up-front and currently they only offer coverage in the UK, US and Australia but there are plans to expand the service to "key European Union markets and other large global travel hubs" in the next 12 months.
The full press release is below. We've been in touch with them and yes, they do allow Skype through, so you can effectively travel to the USA with this in your pocket and, after connecting your handset to the MiFi, you can get super-cheap calls while you walk around New York.
Link – Globalgig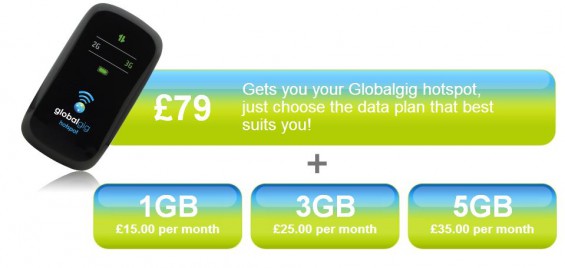 NEW SIMPLE PORTABLE WIFI DEVICE SIGNALS A REVOLUTIONARY END TO
EXCESSIVE DATA ROAMING CHARGES

Globalgig brings mobile internet access to travellers' smartphones,
laptops and tablets at unmatched prices whilst travelling in the UK,
US and Australia

For the first time Traveller data bundles are available in Gigabytes,
not Megabytes, to satisfy real usage needs.

London, Sydney and New York – 29 November 2012 – A simple new
'hotspot'* device powered by Voiamo is set to stir up the mobile
and WiFi world by offering users a mobile internet access solution
that slashes data prices.

The small black device is light and easily portable and will power up
to 5 devices including mobile phones, laptops or iPads without the
need for any extra SIM.

The Globalgig device will be available to use in the UK, US and
Australia and there are plans to expand the service to key European
Union markets and other large global travel hubs over the next 12
months. Globalgig also has plans to launch a voice service, offering
cheap call bundles abroad with the ability to maintain live existing
and local numbers.

Priced in useful monthly bundles of 1GB (Gigabyte) for £15.00, 3GB
for £25.00 and 5GB for £35.00, Globalgig satisfies the data needs of
internet users. The Globalgig Hotspot device can be bought for £79.00
(inc.VAT) from the Globalgig store online at www.globalgig.com and
will shortly be available from www.amazon.co.uk.

Users pay by a rolling monthly bill and can easily connect the device
to their smartphones, laptops and tablets. There is no long-term
contract, there are no hidden charges, and when users wish to upgrade,
downgrade or terminate, they simply need to provide notice by email*.
The service will then be cancelled at that end of their billing
cycle.

Globalgig will help bring an end to the common dilemma of extortionate
data access charges, often hundreds of pounds from only a few days
abroad. Worse still, hotels and public places with WiFi access are
usually costly, patchy, slow, and offers no security for sensitive
consumer data.

"It's time to bring an end to the rip-off data bills that business
people face upon their return from travelling abroad, and bring them a
simple out-of-the-box solution to data access whilst they are
abroad." said Nigel Bramwell, chief executive at Voiamo, the company
behind Globalgig.

Bramwell added: "Our simple Globalgig Hotspot device brings people
fast, secure, carrier-grade internet access through local networks –
enabling them to use videoconferencing and video chat, to surf the
internet as much as they want, and to email and receive large
attachments, all with the assurance that they will get this reliably
and securely at an affordable price."

Globalgig, created and powered by fast-moving telecoms firm Voiamo,
operates using a simple, small hotspot device that automatically logs
into a local data network in each market and feeds internet access to
users' smartphones, tablets and laptops. Globalgig customers can
achieve fast internet speeds by simply turning on the device and
logging on to the WiFi signal as you would do normally. As the device
has a range of up to 130 ft outdoors, the user can place the device in
the room, or in their bag or jacket – and then can access the internet
as normal.

"Sometimes travellers try to avoid roaming charges by purchasing
local SIM cards when they reach their destination, in order to access
data on their phones," says Bramwell.

"Globalgig enables them to keep their SIM card in the phone and
remain in full contact with their customers, colleagues and suppliers,
while having high speed internet access. It's as effective for their
phone as for their laptop or tablet."

About Voiamo

Voiamo Group was formed in September 2007. Since its formation Voiamo
has created the Globalgig product and secured all relevant agreements
with UK, US and Australian network operators.
The company was founded by its Chief Executive Officer, Nigel
Bramwell, who has 27 years experience in the mobile telephone
industry, and its key executives also all have a long track record of
success in the telecoms industry. It is well funded for launching the
product widely and for its continued success – and has a strong group
of investors, many of whom have a major interest in telecoms. Voiamo
is not VC funded.

Voiamo's partners – Mobile Network Operators

In the UK Voiamo is partnered with Three, part of the Hutchison
Whampoa group. Three are the UK's fastest growing mobile network
according to Ofcom's annual Communications Market Report and it has
been rated the UK's number 1 network for coverage, reliability and
quality for the 7th time in the latest YouGov Poll as well as number 1
network for the iPhone.

Voiamo's mobile network services in the US are provided on the
Nationwide Sprint® Network. Sprint (a trademark of Sprint Nextel) has
been ranked number 1 among all national carriers and most improved in
customer satisfaction, across all 47 industries, over the last four
years by the American Customer Satisfaction Index. Although Sprint
provides Voiamo subscribers access to its wireless network and to its
wireless services, Voiamo is responsible to the Voiamo subscribers for
the service. Please call Voiamo with any questions or comments about
services.

Optus is Voiamo's Australian partner and is part of the Singapore
Telecom group, one of Asia's largest mobile operators. In 2012 it won
three major ACOMM Industry Awards.