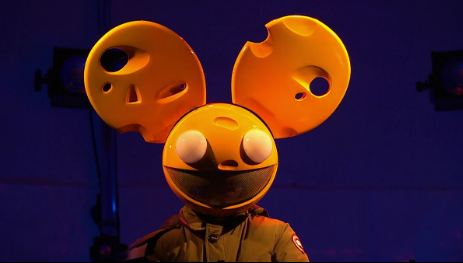 A year ago today we watched Deadmau5 do a pretty brief gig in London. It was all to promote the Nokia Lumia 800 and there were some pretty amazing visuals as the Millbank Tower got turned into a 120-metre high TV for the night.
Shorty after, Microsoft told those that bought the Lumia 800 that they wouldn't be receiving the new Windows Phone 8 OS.
However, Deadmau5 is back and this year he's helping to launch the Lumia 820 and 920 handsets. It's exactly a year since the last event, which you can watch below.
http://www.youtube.com/watch?v=SX2Gd-kqV5s
The first teaser video has been launched by Nokia…
http://www.youtube.com/watch?v=ulW6jKiJLcs
Currently they're not saying where the event will be, so you have to jump on Twitter with the hashtag #switch to try and find out.
Get the full details below…
Link – Nokia Deadmau5 Event 2011
Nokia + Deadmau5 Return: But What Do They Have In Store…?

Rumours have been confirmed that Nokia + Deadmau5 are collaborating once again in what is going to be the biggest event of 2012. The pair promise to take music fans to a whole new level on 28th November, to celebrate the launch of the new Nokia Lumia 820 and 920.

Only 250 pairs of tickets were up for grabs to this must-see mystery event. No-one knows where it is, or what it can be but one thing is for sure, it is going to be epic!

Last year thousands of people witnessed a ground-breaking experience when Nokia + Deadmau5 lit up one of London's famous skylines, the Millbank Tower.

Using the world's most advanced technology, a state-of-the art 4D projection was mapped onto Millbank Tower, transforming the iconic building into a sensational music show. The extravaganza featured unbelievable images and an amazing colourful performance whilst pulsing to the backbeat of Deadmau5.

It was nothing short of mind-blowing and now something exciting is on its way…

Check out the teaser trailer below. What do you think of the cryptic clue 'don't be afraid of the dark'? Throw ideas around on Twitter using the hash tag #switch. Don't worry, you won't have to wait long to find out…

http://www.youtube.com/watch?v=ulW6jKiJLcs

This Is Nokia Lumia
#Switch
28.11.12