The deal of the day today at Expansys is an absolute corker….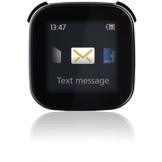 For the bargain basement price of £19.99 you can bag yourself a Sony Ericsson Liveview Smartwatch.
The SonyEricsson Liveview Smartwatch  lets you check your Android phone without taking it out of your pocket. Acting as a second screen for your Android* smartphone, you can control your music, view social network feeds, receive phone calls, read your texts or just check the time all from your wrist. Via Bluetooth, it syncs with your smartphone and displays it on the 1.3inch screen. Touch the panels on the side to flick through the menu to access Facebook, Twitter, your calendar, Find Phone (makes your phone ring when you can't find it) text messages and compatible apps on your phone. You can wear it on your wrist (strap included) or clip it onto your clothing, which is brilliant for skipping tracks when you're out running or in the gym. Full battery lasts up to four days and you can charge it using the micro USB port.
The deal is live until 12 midnight and stocks are limited, so don't delay, head on over to Expansys now and grab a bargain.
Full details can be found here.