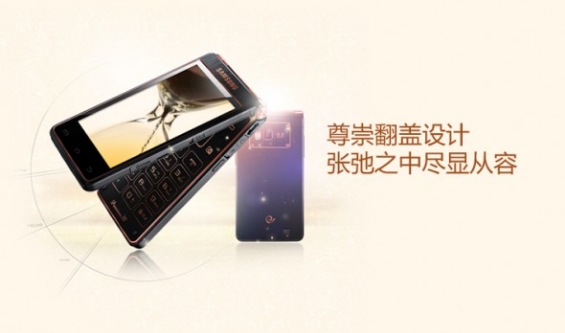 A little while ago we showed a new Android powered Samsung flip phone that was destined for the Chinese market.
Well, Samsung have quite strongly upped the ante with the launch of a brand new quad core flip phone powered by Android – again destined for the Chinese market only.
The specs are as follows:
Clamshell Design
Dual 3.7-inch Super AMOLED
Quad-Core 1.4GHz Processor
2GB RAM
16GB Storage
GSM 900/1,800/1,900MHz
CDMA 800/1,900MHz
Android 4.0
800×480 WVGA Resolution
Bluetooth 4
Wi-Fi Capable
8MP Camera
1.9MP Front-Facing Camera
195g
Size 117.8 x 60 x 16.83 mm
Not a bad device until the price is revealed……$3000!
There are no plans to release the device outside of the Chinese market and at the price the sales volumes would be severely limited.
Running Android 4.0 ICS, the device also comes with Touchwiz albeit with adaptations for the flip format.
So, if you have plenty of spare cash and contacts in China you could bag yourself something that would be pretty much unique in the  western world!
Source: Samsung