If you are an existing customer on Three here in the UK and have not been able to get your hands on an out of contract iPhone 5 yet due to Apple stock reservation system being 'tricky' at best, the great news is the official Three site has been changed to allow iPhone 5 purchases on PAYG starting from £499.99 for a 16GB model which are also in stock for next day delivery in both black or white.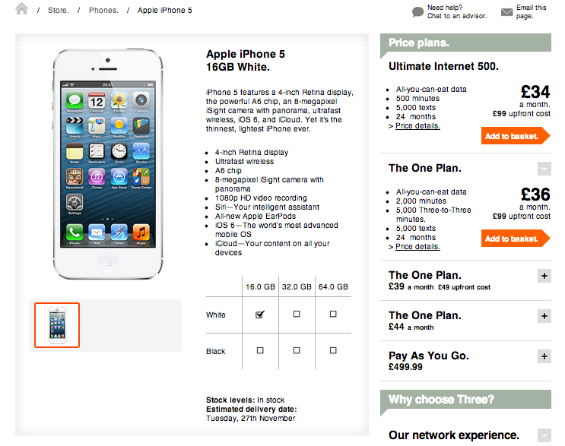 Until now it has been almost impossible for anyone to get hands on an iPhone 5 out of contract with many stores only stocking contract stock and the Apple store offering a chance to reserve one if it is available only to be out of luck so this shows stock is improving.
On checking MacRumors forum it was often seen that many a customer went onto the Apple reservation site and tried reserving phones in multiple local stores only to not get an email confining they have one available, mainly due to stock shortages so having to try again on a daily basis.
No word if a Three retail store will sell you one on PAYG yet, but at least you have an option to buy one online.
Link: Three