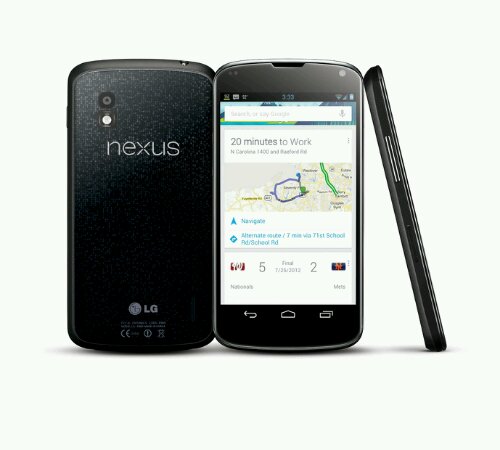 Seekers of the mythical Nexus 4 now have another opportunity to not get one… at least not yet. 🙂
Three have announced that they will be selling Google & LG's latest and greatest handset. Unfortunately it's not available straight away, so if you're not the patient type your best hope is to pay £100 over-the-odds to Carphonewarehouse or O2.
For those that can wait, the Nexus 4 will be available from 13th December on PAYM and PAYG.
The Nexus 4 features the latest Android 4.2 OS and comes with an impressive HD screen. It's powered by a quad core CPU and has built-in wireless charging.
You can buy it on Pay As You Go for £399.99 plus a top up or for £35 a month on contract with an upfront cost of £29 on The One Plan.
Enjoy the usual hands-on action from Three…
[yframe url='http://www.youtube.com/watch?v=Ys9m8kNtd78′]
Coming soon to Three – Google Nexus 4 by LG.

Today Three announces that from the 13 th December, the Google Nexus 4 by LG will be available in all Three stores and online at www.three.co.uk.

Featuring a large 4.7" display, photos and videos on the Nexus 7 come to life in stunning clarity and crisp, natural colour and the gently curved glass edge design makes it comfortable to hold and allow fingers to glide easily on and off the screen.

The high-performance 8MP camera lets you take brilliant HDR photos of mixed-light scenes or shoot full HD 1080p movies and quickly share them with your friends and with an amazing Photo Sphere feature, snap pictures in every direction that then come together putting you right inside the scene.

Pre-loaded with the very latest version of Android, the cutting edge Nexus 4 features a fast quad-core processor making it easier to browse the web, enjoy gameplay and rich 3D graphics and effortlessly switch between multiple apps.

Sylvia Chind, Head of Devices at Three said, "The Nexus 4 has a beautiful design and impressive hardware specs so our customers will be able to truly enjoy all the benefits of the mobile internet with this new smartphone. It's a great complement to our award winning network and it's no coincidence that we were recently awarded 'Best Network'* for the second year running at the 2012 uSwitch Mobile awards".

The Nexus 4 will be available for £35 a month with an upfront cost of £29 on The One Plan which offers a fear-free mobile internet experience with a guarantee of no surprise out-of-bundle data charges.

The smartphone will also be available on Pay As You Go for £399.99 plus a top up. All in One 15 costs £15 and gives 30-day access to All-You-Can-Eat data along with 300 any-network minutes and 3,000 texts. Or All in One 25 costs £25 and offers All-You-Can-Eat data, 500 minutes and 3,000 texts and for a 30-day period.

Key features:

· Offers the ultimate Google experience with Android 4.2 TM Jelly Bean
· Thin, light and portable to fit perfectly in your hand
· Enabled with HSDPA +42 technology that will allow customers to connect to Three's ultrafast DC HSDPA network
· Stunning 4.7" scratch-resistant Corning ® Gorilla ® Glass 2 display
· Optimised gaming experiences with the 1.5 GHz quad core processor

* In addition to winning 'Voted Best Network' at the 2012 uSwitch Mobile Awards, Three also won 'Voted Fastest 3G Network' and 'Voted Best for Roaming' by uSwitch customers.