BREAKING NEWS! On checking the official EE site just now, it seems SIM-only plans have just beed added to the list.
Prices starting from £21 per month for 500MB and go up to £36 per month for 5GB. These are all 12 month plans to get you 4G on a suitable device.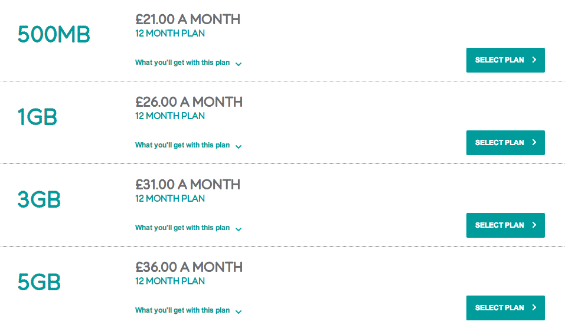 SIM-only plans were due on the 9th but were delayed the night before. We were told that the delay could be "up to two weeks", which would've meant this Friday, but EE have managed to fix the problems and get the plans out today. The deals look the same as the ones we saw back in the press pack for EE launch.
Something also to note – there doesn't seem to be a roaming plan for SIM-only, whereas a roaming plan on a 24 month contact deal costs £5 more for unlimited roaming calls and texts in a lot of countries.  We've reached out to EE to confirm if the roaming deals will be available on SIM-only also.
We've already tested the new 4G network whilst on one of our "special excursions" down a quiet country lane. 🙂
EE tell us that..
We're really pleased to announce our superfast 4GEE SIM-only plans have launched today for customers. They are available initially to buy online or over the phone through our customer services team. They will also soon be available in store and we'll confirm a start date very shortly. The 12 month plans are £15 per month cheaper than our 24 month plans that include handsets – customers just need to pick their data plan.
More as we get it. Don't forget to follow us on Twitter for all the breaking news.
UPDATE 10:56 – It seems that the roaming deal which costs £5 a month on a 24 month contract for unlimited minutes and texts whilst roaming is NOT available on SIM-only contracts.  Over on What Mobile Forums, user 'Hal' has called and already asked this question and said
Just been on the phone to EE — they have confirmed to me that you can't get roaming on sim-only. You have to buy a phone and commit to 24 month contract.
Also on checking the Facebook page just now for EE, the company have replied to a customer who's name is Erik who asked about roaming and was told
Hi Erik, the roaming plans are only available on 24 month plans with EE and we only currently offer 12 month SIM only plans. If you have any further queries, please feel free to ask.
Link – EE SIM Only