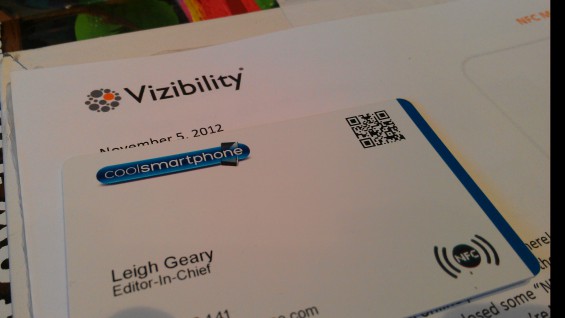 So, you've got a business card. Most people do. Whether it's a cheap business card or a posh aluminium one there's generally the same problem – you can only fit a certain amount of information on, and when your number or job title changes it means a whole new card.
Then there's your memory, and if it's as bad as mine, you'll soon forget who "John" is when he calls the number on your business card a few months later.
So, how about a card that contains more details and is clever enough to let you know when someone looks at it? The guys at Vizibility have just the thing, and there's a trick up the sleave – it has NFC too. The amount of phones with NFC technology is increasing by the week, but if you don't have an enabled phone you can instead use a QR code.
There's no app to worry about – just show your business card, get someone to take a picture or "bonk" it via NFC and you're done. They then receive a mobile-formatted page with stacks more details than you'd ever see on a business card.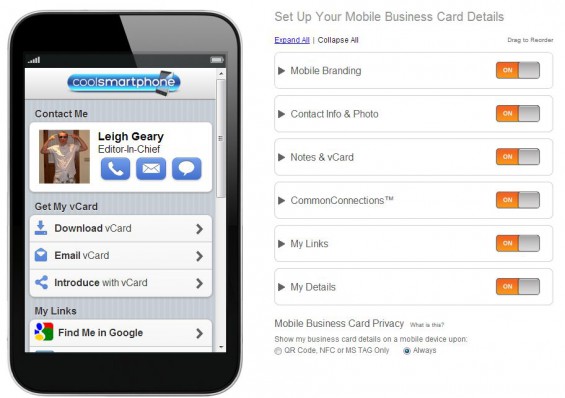 This detail is all controlled – you can switch on or turn off information from a central control panel. The "Mobile Branding" section lets you upload your company logo, plus you can even change the favicon, your photo, position, LinkedIn profile, Facebook, Twitter and any additional links you'd like to add too.


Text message alerts can be setup too, so you can be informed when someone scans or taps one of your cards or codes. You can also be informed when someone clicks on your links or downloads your vCard. Oh, then there's the fact that you can turn off alerts between certain times too.
If you run out of QR codes you can download even more. Then there's the metrics and tracking system too – that'll let you see how many people have viewed your info, and where they were when they did it… oh, and what device they were using at the time.
There's a full video of the NFC card in action here…
If you're interested, head over to Vizibility.com to sign-up for free.