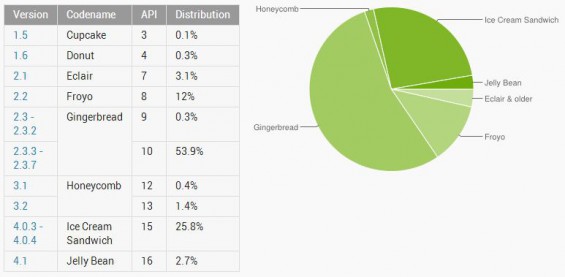 Ever wondered how many people are using Ice Cream Sandwich, or Honeycomb, or Gingerbread?
Well, Google (as usual, with most things) has the answer. Data from the number of Android devices accessing Google Play within a 14-day period shows that nearly 26% are using Ice Cream Sandwich and there's 2.7% on Jelly Bean.
But….
A ma-hooosive 53.9% are still using a flavour of Gingerbread. Surprised? We're guessing that there's a large amount of entry-level Android handsets running Gingerbread … plus there's the problem of upgrades not occurring smoothly. Oh yes. Remember that? Remember how Android upgrades were supposed to be easier? It's not happening, at least not by these stats.
Link – Android Developer