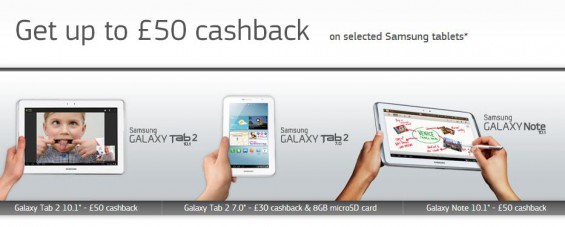 Seen this? It's a £50 cashback offer on selected Samsung Galaxy Tab devices. Those "selected" devices are the Galaxy Tab 2 10.1, Galaxy Note 10.1 and for some reasons there's £30 cashback on the Galaxy Tab 7.0, but you get an 8GB microSD card.
Anyways, Simon Algar popped into Argos and found that they'd reduced the price of the Samsung Galaxy Tab 2 10.1″ (WiFi) to £238. Now, that's already £61 off the original price, but Argos are also giving away a £10 free voucher too, so we're down to £228. Then, if you knock off the £50 you get down to £178.
Boom!
Oh, and if you were SUPPOSED to be in Argos buying presents for others, then why not stick it on an Argos card and get it on a 0% "Buy now, pay in 12 months" deal eh? Stick £15 into a savings account each month and you'll have it paid next year.
Oh, we've just found out that it's the last day of the Argos £10 off today, so bear this in mind if you're planning to take the offer up.
Link – Samsung Cash-back