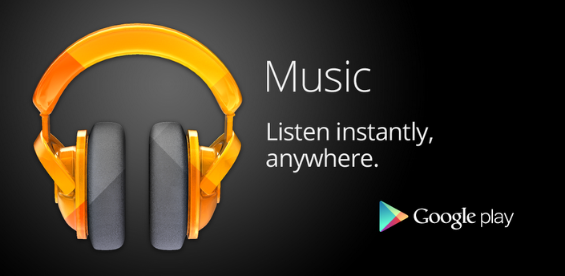 As discussed on our latest podcast, Google Music has finally arrived here on the shores of the UK and finally for all of those who didn't know about or care to use the workaround can get a taste of what those on the other side of the pond have had for a long while now.
Google Play Music is bundled as an app within stock android but is also downloadable from the Google Play Store but what's so special?
The key thing with Google Play music is that you don't have to have any music actually on your handset.  The Google Play Music app lets you listen to your music collection anywhere with all of your music being stored online in the cloud meaning wherever you have a 3G signal there will be no need to worry about syncing or storage space on your device.

Google Play Music enables you to store up to 20,000 songs online that can be played on any Android device with the relevant connection.
In order to set this up, you will first need to download and install the Google Play Music app to your PC, this will then scan and upload your music library.  Once this is complete (and a word of warning, this can take a fair while – the larger the library the longer the upload).
When this is done,  simply open the app on your handset and hey presto, all of your music library is listed along with the album art and song information.

From here you can stream any album or track that you have in your collection or if you so choose, download your chosen tracks for offline listening at a later stage. You can also create playlists based on your favourite tunes or have Google Music do it for you.  Simply select the thumbs up icon on the track you wish and an instant mix will appear containing not only the track you selected but tracks from your collection that are in a similar vein to the original that you gave a thumbs up for.
Google has also bought the functionality to purchase music to the UK with an extensive library that is priced competitively with other online music suppliers. When you purchase a song or album from the Play Store it immediately appears on your handset in the music library ready for you to listen to or download for later delectation.
Visually the app is very appealing.  Viewed in landscape mode the recent albums list has an almost coverflow like effect.  You can also select your track from a list of albums, artists, genres, tracks or user created playlists. Adding music to your online library is simple.
As well as purchasing from Google Music, the app on your PC constantly monitors for new tracks or albums that are added to your music folder and any additions are automatically uploaded and appear on your handset.  No further user intervention is required.
With options to stream via wi-fi only, always stream in the highest possible quality, a built in equalizer and the ability to pair up with the elusive Nexus Q, Google Music has all the bases covered.  The web interface is simple to use and can be accessed from any browser that has the flash plugin enabled.
Google Play Music is a well polished app that would make a welcome addition to any Android touting handset – and as mentioned by Mark Peters, the best part of all is that it is totally free.
Download Google Play Music here or more information can be found here.