A mere four months after the release of Android 4.1, we now have 4.2. It's still called Jellybean, but despite the lack of a name change there are still some nice additions, more so than the last time we had two versions of Android with the same name (Éclair).
I've been using 4.1 for a few days now and have had a chance to test out the new features on my Galaxy Nexus.
Quick Settings
Of all the announced features, I was very much looking forward to Quick Settings. Power toggles in the notification curtain has long been a custom ROM favourite. However since the release of Jellybean I've gone exclusively stock and unrooted. I feel that Android has now reached a point where the benefits of modding aren't really worth the time or effort. Notification toggles were one of the few features that I did miss though.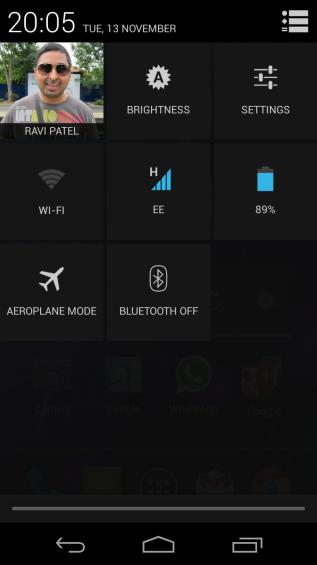 And so it pains me to have to criticise Google's implementation, but for me Quick Settings is near useless. I do like the two finger swipe down gesture to access them, as well as the dedicated button in the notification panel. I also like how the buttons are nice and large. What I don't like is that the buttons aren't actually toggles, they're shortcuts to the actual settings screens for each particular feature. Who oh why oh who?!!! This may no doubt be useful to someone, but it just screams FAIL to me. And to top it all off, none of it is customisable in any way.
Update
I've just discovered that the above isn't quite true. The Airplane button is actually a toggle and the Brightness button does bring  up a slider. But the others are most definitely just shortcuts. I'm still left wondering why there isn't just a brightness slider in the first place. And how about an orientation lock? Most strange of all is the user photo, which is just a shortcut to your Google+ profile. Again, why?
So, don't get rid of that Power Control widget just yet. Fingers crossed this will be fixed in 4.2.1.
Update 2
I now know that the user icon in Quick Settings is to easily switch users on tablets. Touching your icon takes you back to the lock screen where you can switch users. A nice touch, as the alternative would be having to put the device into and out of standby.  
Gmail
Three words: pinch to zoom. Finally!!! There isn't much more to say. Okay, well there's a little. It works just as you'd expect. Your HTML emails start off in a zoomed out view covering the full screen width. You can scroll up and down but not left to right, just as it should be. If everything's too small you can then pinch to zoom, and pan around to your heart's content. I'm torn between wondering why it's taken so long, and just being happy that we now have it.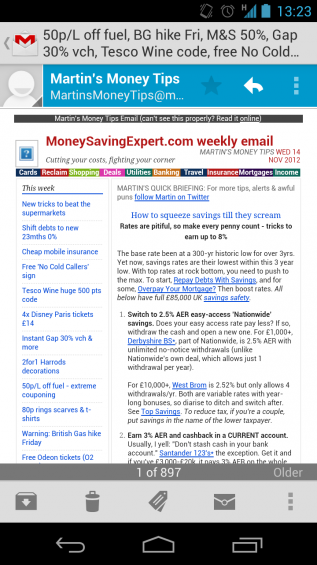 One thing to note though is that it's disabled by default. You have to go into the settings screen and enable "Auto-fit messages" under General Settings.
There's also now support for swipe to archive/delete directly from the inbox. It works just like it sounds and is a quick way of clearing an inbox. The problem I have is that if you want to mark things as read first, it's still quicker to either go into the email and then hit archive, or select a few emails and then hit mark read followed by archive.
Lockscreen widgets
The lockscreen has received a fair bit of work in 4.2, with the major addition being its ability to support widgets. Right now, support for this seems to be limited to first party apps, however I'm sure that others will soon follow. For now, there's Calendar, Clock, Gmail and Messaging.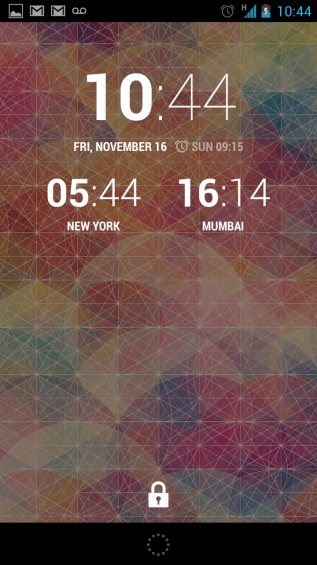 The default lock screen hosts the new clock app, which shows the time and date, along with the times of any other cities you've added. Swiping to the left now takes you directly into the camera viewfinder. You can add further widgets which will appear to the left of the main lock screen. It all works as expected and is quite useful for checking things without unlocking your device. It also works with (pattern/pin) locked devices, which I found quite useful as the lockscreen notification curtain is disabled in this instance.
Holding down on one of the widgets brings up a UI where you can remove the widget or reorder them to your heart's content.
Update
After listening to this week's podcast, I'd like to address Dan's issue about security. If you don't want people potentially reading your emails and texts, don't use the lockscreen widgets!
Clock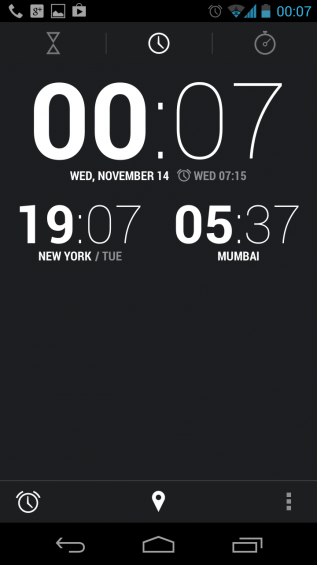 I love the new Clock app. The Android Clock app has long been the poor relation of the first part app family. No longer. First of all, it's just beautiful. It Holo aesthetic matches the OS perfectly and looks fabulous. It's also added some much needed functionality that's long been conspicuous by its absence. Yes, Android finally has a native stopwatch and countdown timer!
I particularly like the number pad for setting the countdown timer. No fiddly rolodexes here, just tap in the time and hit go. You can set multiple countdowns and label them. There's also notification support for when you're not in the app. Somewhat disappointingly though, it only say there are X minutes remaining, instead of giving you the actual time. The stopwatch scores better on this front, with a proper timer and also buttons for lap/stop/reset.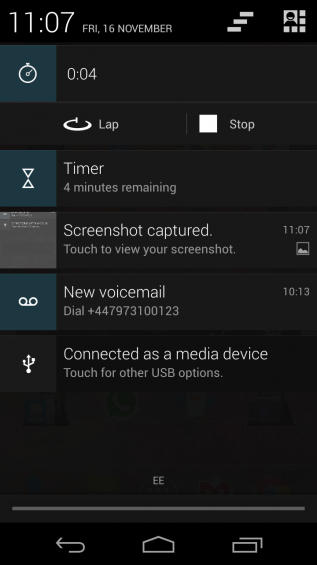 The alarm UI is also much improved. So much so that, I've now switched to using as my go to alarm app. It's really easy to add multiple alarms, set times (again with a number pad!), repeat days and ring tones. I also like how you can snooze it quickly with either the volume buttons or with a quick swipe to the left using the same UI as the default Android lockscreen.
Update
For some reason the Clock app constantly crashes on my Nexus 7. What's even more strange is that this is despite the fact that I haven't even opened it once. Let's hope Google fix it soon.
Camera
Although my Galaxy Nexus still takes the same mediocre shots, at least I have now have a much improved UI to take them with. By default, there's now actually very little UI at all, save for three buttons at the bottom for mode, shutter and options. The mode button allows you to choose between camera, video, panorama and photosphere. The UI button toggles the extra settings available, which have now been hidden by default.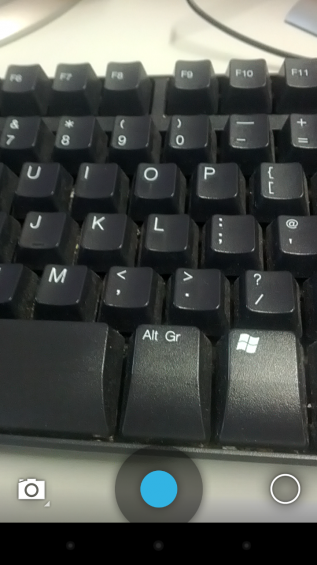 In practice, the best way to access the extra settings is by tapping and holding anywhere on the screen. This brings up a new radial menu with options for Flash, Exposure, White Balance and Camera switching. To select an option you simply swipe your finger to it, which then brings up additional options. Simply swipe to the desired option and release. In use it's extremely fast and intuitive. The best part is that you don't have to adjust your grip or use two hands as the UI no longer has a fixed position.
I should quickly mention the new Photo Sphere mode. To my mind, it's a copy of Microsoft's Photosynth, which has been available on iOS for ages. It's like a panorama mode, but you can also shoot up and down as well as left to right. The resulting photosphere can then be viewed either in 2D or in a pseudo 3D mode where you can pan around in all directions. You can also upload these Photo Spheres to Google Maps for others to view, which is admittedly quite cool.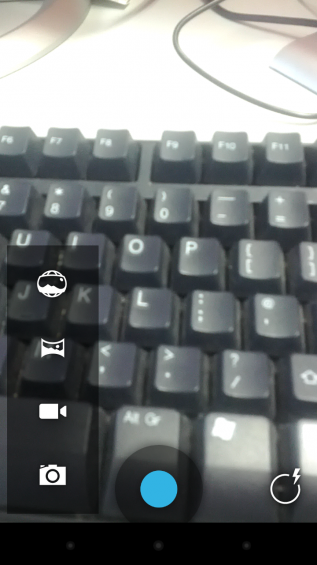 Finally, the Camera icon has been redesigned in 4.2. I like.
Multiple Users (update)
I've now given this a try on my Nexus 7. There's a new Users option in the settings screen from which you can add users. From each user's point of view, it's like having their own personal device. They start with the default apps and can install whatever they like from the Play Store. Apps which other users already have installed don't actually need to be downloaded again.
It's definitely a nice feature, and one that I've always wanted on my iPad. Tablets, unlike phones, are much more likely to be used by more than one person and it's nice to see Google acknowledge this. I particularly liked that my other half could happily play away on games without interfering with my progress and high scores.
One thing to note is that I did experience some performance issues when I added a second user. The UI became slightly more laggy and unresponsive for some reason. It seems to have gone away but I'll monitor the situation to see if it returns.
Keyboard (update)
Over the years, I've gone from hating the Android keyboard (Cupcake, Éclair, FroYo), to liking it (Ginerbread), and eventually loving it (ICS). While Apple (and MS) pretty much got it right first time, Google have kept plugging away and got there in the end. However over the last three to four months I've made the switch to SwiftKey. I find that they slightly larger keys and superior correction help me type that little bit faster.
Hence the updated keyboard passed me by initially. The headline feature is the addition of gesture typing, read Swype to you and me. To be fair, I haven't used Swype in a while, but I don't remember it being this good. I found I could type very quickly and word prediction was generally excellent. I particularly liked that the live word prediction follows your finger around so that you can let go as soon as it's right. Also, it's enabled by default, so if at any point you get tired of regular typing, you can just swipe away. I still find that I'm quicker typing with both of my thumbs, but for one handed use I think that swiping is far superior.
Although not enough to tempt me away from SwiftKey (which should be getting its own Swype mode soon), it's still a great keyboard in its own right, and a more than decent stock option.
Conclusion
Coming four months after 4.1, there were never likely to be any massive changes in 4.2. That said, the new additions are nice enough and definitely help to round out the stock Android experience. Android came of age with ICS, and 4.1 really helped to add polish with addition of project butter. Android 4.2 is a first class mobile OS, that is more than competitive with other offerings in terms of features, UI, performance and polish.
There's still plenty more that needs to be done, but this is a nice upgrade to tide us over till Key Lime Pie hopefully brings something more substantial to the table.