The Lenova made Smart Tab II is now available from Vodafone.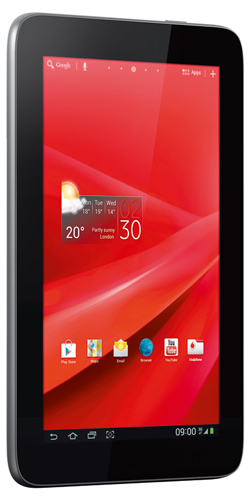 Vodafone have even made a nice little video showing off the Smart Tab II
http://www.youtube.com/watch?v=jViiAN3yA2o
The 7 inch Vodafone Smart Tab II, powered by Lenovo, is the new 3G and WiFi Android tablet from Vodafone – giving you complete mobility at an unbeatable price.
The Vodafone Smart Tab II is available for £29 on 24 month, £20 price plans, including 2GB of mobile internet and 1GB of Wi-Fi. It is also available for just £149 on Pay as you go. You can get more info here.
With immediate start-up, the tablet brings instant entertainment to your fingertips. Running on Android Ice Cream Sandwich, the Vodafone Smart Tab II gives you on-the-go access to news, videos and entertainment, as well as more than 600,000 apps and games through Google Play. With a 1GHz processor to keep things running smoothly and efficiently, the Tab II meets all your essential data needs not only through your home Wi-Fi, but when you're out and about using Vodafone's award winning UK network.
The Tab II's front and rear facing camera and its large 7 inch display are encased in a compact design, just 11.5 mm thick and weighing 400 grams, giving you the benefits of a PC but with added portability. Plus, its Micro SD card slot expands the 4GB of internal memory up to 32GB, meaning there's plenty of room for all your movies, music, photos and emails.
An optional foldable hard cover is available for just £25 to protect your Vodafone Smart Tab II while you're on the move.