During the last year Three have added just over 1 million new customers to their network. They've announced that they're stepping up the rollout of their new ultra-fast network 3G DC-HSDPA and next year, 4G LTE technology.
By the end of 2012 the cities below will have been enabled with DC-HSDPA offering "real world" speeds of around 20Mbps on compatible devices. These include the Sony Xperia T, Apple iPhone 5 and HTC 8X. They will have 80% of the UK upgraded by this coming April. 
Three have also stated that the recent acquisition of 1800Mhz spectrum will double the network capacity and allow LTE rollout to start from next year.
The cities covered by 2012 for DC-HSDPA are:
Aberdeen
Birmingham
Blackpool
Bolton
Bournemouth
Bradford
Brighton
Bristol
Cambridge
Cardiff
Coventry
Derby
Dudley
Dundee
Edinburgh
Exeter
Glasgow
Gloucester
Huddersfield
Ipswich
Kingston
Upon Hull
Leeds
Leicester
Liverpool
London
Luton
Manchester
Milton Keynes
Newcastle Upon Tyne
Northampton
Norwich
Nottingham
Oldham
Oxford
Peterborough
Plymouth
Portsmouth
Preston
Reading
Sheffield
Slough
Southend on Sea
Southampton
Stockport
Stoke on Trent
Swindon
Watford
West Bromwich
Wolverhampton
York. 

Check below for the full press release….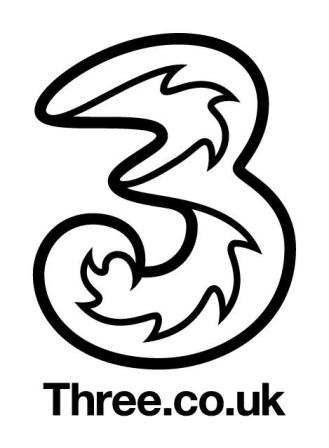 Three adds a million customers and upgrades network to accelerate growth

Network upgrade to extend Ultrafast experience to 50% of population by year's end
1800Mhz spectrum acquisition doubles capacity

Three, the UK's fastest growing mobile operator grew by more than 1.04 million customers over the past year to 8.8 million, adding 301,000 customers in the last quarter alone.

The growth in customers, driven by Three's smartphone focus, is being supported by a nationwide programme to upgrade its network. Three is deploying DC-HSDPA technology and increasing the speed of its backhaul, the data pipes used to connect its sites to the internet, as it moves to an Ultrafast network experience.

Three's new Ultrafast network will reach over half the UK population by the end of 2012, with more than 80% of the population covered by April 2013. 39% of the population already have access to the Ultrafast network, with coverage currently focused on 50 of the UK's biggest cities and towns.

The ongoing network programme will see customers benefit from increased speeds that will be more than enough for data-hungry services like HD video streaming.  Three customers in existing Ultrafast areas using DC-HSDPA devices like iPhone 5, the Sony Xperia T and the Windows Phone 8X by HTC are already reporting peak speeds over 20Mbps. iPad mini, iPad with Retina display and the Huawei E3521 dongle are also DC-HSDPA enabled.

Three will add further capacity to its Ultrafast network in 2013 by deploying LTE technology. This follows Ofcom's approval of Three's acquisition of 2x15Mhz of radio spectrum at 1800Mhz.  The transfer effectively doubles Three's overall spectrum capacity and provides further room for customer growth.

Dave Dyson, Chief Executive of Three UK, said: "We have led the adoption of smartphones in the UK by giving our customers great coverage, fast speeds and compelling price plans.  These network improvements are designed to maintain our position as the fastest growing UK mobile operator.

"Our Ultrafast network is giving more people in more places access to an even faster mobile internet experience.

"But mobile internet is about more than just technology.  All-you-can-eat data at prices to suit everyone and peace of mind bundles that guarantee no surprise data bills are designed to allow customers to get the most enjoyment from their smartphones."

Three's growth plans are being matched by the launch of an 800-strong recruitment drive in October that will add nearly 400 sales and service roles at its Glasgow office and 400 across its high street retail stores and Maidenhead office.