For a while now there has been talk of a white version of the new LG Nexus 4 device but we have yet to see it in public.  However on the day of the Nexus 4 launch here in the UK, Carphone Warehouse have something rather interesting on their site.
Check the bottom of the picture in the left corner where both black AND white versions are showing!.  However on clicking the white option no image loads so maybe this is a system error or maybe there really IS a white Nexus 4 but just no image for it yet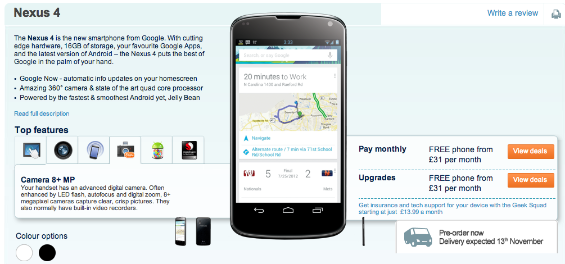 With the Nexus 4 already on sale in Australia but selling out in around just 22 minutes this will be easily one of the fastest selling phones around and at just £279.99 for a sim free unlocked version this is hardly a surprise.
Link: Carphone Warehouse