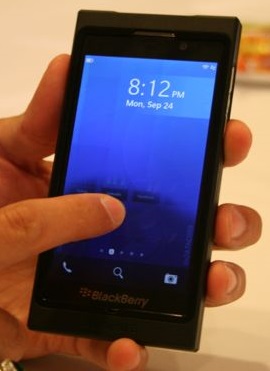 There's been a bit of a discussion amongst the CoolSmartPhone writers. Some of us still think RIM has a future in the two-and-a-half horse smartphone race that the end of 2012 is seeing, so when the Waterloo company announced the official launch date of BB10 will be Jan the 30th some of us had conflicting feelings.
The first was "finally! Its coming in January!", however hot on the heels of that one was "why so late in January?". For some reason, I had my heart set on a date around 15-17 of that month. At this point, we have no idea why, but there you have it.
Blackberry 7 will soon be dead. It will be missed, but not very much at this point.
The new UX has a lot of things to recommend it – peek looks sweet, and so does the flow concept. We'll find a way to get hold of one and review it, but in the (all-too-reasonable) words of a fellow contributor "It could be the most amazing OS ever to grace the universe, it just doesn't matter at this point. "
It's not something we want to believe, or even hear. It may well be very true, but some little voice inside is still thinking "If Apple can do it…"
BlackBerry 10 Launch Event to be Held on January 30th, 2013

WATERLOO, ONTARIO–(Marketwire – Nov. 12, 2012) – Research In Motion (RIM) (NASDAQ:RIMM)(TSX:RIM) announced today that it will hold its BlackBerry 10 launch event on January 30th, 2013. The event will happen simultaneously in multiple countries around the world. This day will mark the official launch of its new platform – BlackBerry 10, as well as the unveiling of the first two BlackBerry 10 smartphones. Details on the smartphones and their availability will be announced at the event.


"In building BlackBerry 10, we set out to create a truly unique mobile computing experience that constantly adapts to your needs. Our team has been working tirelessly to bring our customers innovative features combined with a best in class browser, a rich application ecosystem, and cutting-edge multimedia capabilities. All of this will be integrated into a user experience – the BlackBerry Flow – that is unlike any smartphone on the market today," said Thorsten Heins, President and CEO of Research In Motion. "Thanks to our strong partnerships with global carriers and a growing ecosystem of developers, we believe our customers will have the best experience possible with BlackBerry 10. We are looking forward to getting BlackBerry 10 in the hands of our customers around the world."

BlackBerry 10 will offer a large catalog of the leading applications from across the globe and across all categories, including Games, Productivity, Social, Lifestyle and Leisure, Multimedia and Published Content, as well as applications designed for business and enterprise use.
The BlackBerry 10 platform has recently achieved FIPS 140-2 certification, which means that government agencies will be able to deploy BlackBerry 10 smartphones and BlackBerry Enterprise Service 10 as soon as it is available. This marks the first time BlackBerry products have been certified ahead of their launch. In addition, RIM recently announced that BlackBerry 10 smartphones have now entered more than 50 carrier labs with many more entries expected in the coming weeks.
Some key features of the new BlackBerry 10 devices already unveiled recently include:
BlackBerry Flow and BlackBerry Hub
BlackBerry Flow is a new user experience that allows seamless navigation across open applications and the BlackBerry Hub. All messages, notifications, feeds, and calendar events come into the BlackBerry Hub and no matter what the user is doing with the device, with a simple gesture, they can peek into the Hub at any time.
BlackBerry Keyboard
The BlackBerry Keyboard learns how you write and adapts to how you type so you can write faster and more accurately, giving you the kind of legendary typing experience that only BlackBerry can deliver.
BlackBerry Balance
BlackBerry Balance offers the most elegant way to satisfy both customer and corporate needs without compromising on either. With BlackBerry Balance, personal apps and information are kept separate from work data, and the customer can switch from their personal to work profile with a simple gesture. The work profile is fully encrypted and secure, enabling organizations to protect their content and applications, while at the same time letting customers get the most out of their smartphone for their personal use.
Details about BlackBerry 10 can be found at: www.blackberry.com/blackberry10