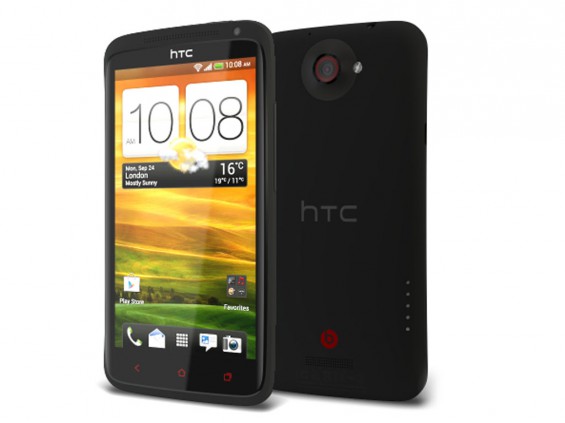 HTC recently released the HTC One X+, the update to the well received One X.
After a small amount of pleading and thanks to the rather lovely guys at HTC, we here at Coolsmartphone have managed to get our grubby mitts on one to have a play with and write a review on.
The handset arrived yesterday and I have had a chance to have a play so here are my initial impressions which will be followed by a full review in due course.
Good Points
The screen
Beats Audio
Build quality
HTC Sense?
Camera
Massive internal storage
Bad Points
No removable battery
HTC Sense?
No Beats headphones
No SD Card slot
Design
Put simply, the HTC One X+ is a thing of beauty.  Finished completely in black polycarbonate with softkeys at the bottom of the device that glow red when lit, HTC's flagship Android handset is in my opinion the best looking device money can buy – maybe controversial but there it is!
The rear of the handset contains the slightly protruding camera along with the LED flash, the HTC and Beats Audio logos, 5 pogo pins and a small speaker.  The top of the device contains the SIM card tray, the 3.5mm headphone jack and the metallic black power button. The volume rocker is on the left of the device and sits very nearly flush with the case.
On the front there is the front facing camera which sits next to the speaker.  To finish there is a microphone located on the bottom.
Whilst the One X+ doesn't differ all that greatly in design to its older sibling, there are some small tweaks that add to the overall look and improve on an already decent design.
Hardware
The One X was already a decently specified device and the One X+ builds on this, the specs are as follows:
134.4 x 69.9 x 8.9 mm (5.29 x 2.75 x 0.35 in)
135g
Super LCD2 capacitive touchscreen
720 x 1280, 4.7″ screen
Corning Gorilla Glass 2
NVIDIA Tegra 3 1.7GHz Quad Core Processor
MicroSim
64Gb onboard storage
1Gb RAM
GPS / WiFi
NFC
Bluetooth 4.0
DLNA
Micro-USB
Beats Audio Onboard
8mp Rear Camera
1.6mp Front Camera
Dedicated HTC image chip
2100mAh embedded battery
As you can see, this is certainly a device aimed at the top end of the market.  So far, the screen is a joy to look at, even in bright daylight (I would like to say sunlight but that is a little rare lately!) and the audio quality is excellent.
Software
HTC Sense.  It has been discussed so many times before and you either love it or hate it.  The One X+ comes packaged with Sense 4.1 which is overlaid on top of Android Jellybean 4.1. HTC also include 7 digital, an app called Best Deals, Dropbox, EA Games, Facebook, Twitter and various other apps.  All of the usual Google apps are included being Google Play, Google Books, Movies, Music et al. Some of the apps are useful, others not so.  At first use the software appears reasonably quick and responsive but as ever, more time with the handset will reveal both strengths and weaknesses.
Initial Conclusion
An extremely good looking handset that is well built and even though there appears a little in the way of excess software, it doesn't seem to slow the unit down in any way.  Masses of storage mean that the lack of an SD card slot is not a major issue although the fact that it is a sealed unit could lead to battery issues after a time.
We will be publishing a full review in due course, if there are any questions you would like to ask or anything you would like us to test, let us know in the comments below.