Is the Galaxy SII just a little too large for you? If you don't mind a slight dip in specs, the SIII Mini is now available from Three. It's currently only available in their stores but will appear online next Friday.
Featuring a 4″ WVGA Super AMOLED display, 1GHz dual-core CPU and a 5 megapixel rear camera, the SIII mini could be just the thing for those who don't quite need the blistering speed or size of the current SIII.
Three will be dishing this up for £239.99 on Pay As You Go with a top-up, or you can get it on contract for free on plans over £28 per month. Oh, and as this is Three there's the All-You-Can-Eat data plans too.
Link – Three Press Release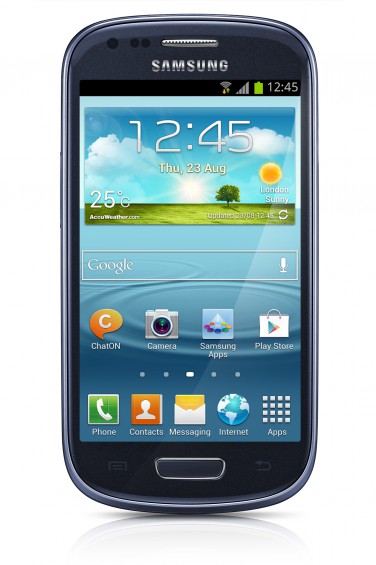 Samsung Galaxy S III Mini – available now on Three.

The Samsung Galaxy S III Mini is now available in all Three stores and, from 16th November, will be available online at www.three.co.uk.

The Samsung Galaxy S III Mini is the new compact version of the Samsung Galaxy S III. Featuring a large 4.0" display, the S III Mini is great for viewing more content on one screen, reducing the need for scrolling and zooming out. Its HD Super AMOLED technology also means that videos and pictures come to life in amazingly clear, crisp colours.

This elegant but minimal smartphone comes with a fast 1GHz dual core processor that allows apps and games to load quickly, enabling people to enjoy seamless browsing, gaming, viewing and downloading. Perfect for budding Instagrammers, the Samsung Galaxy S III Mini delivers great images using a 5 megapixel camera, which also has Best Shot mode that takes a burst of photos and then cleverly selects the best one.

Sylvia Chind, Head of Devices at Three, said, "Not only is the Samsung Galaxy S III Mini a top performing phone but it's also full of innovative touches like the notification light, which can be customised to flash a different colour to alert users to new messages or calls."

The Samsung Galaxy S III Mini is available with no upfront cost on the Ultimate Internet 500 plan for £28 a month, and on The One Plan, which offers a fear-free mobile internet experience with a guarantee of no surprise out-of-bundle data charges, for £32 a month.

The smartphone is also available on Pay As You Go for £269.99 plus a top up. All in One 15 costs £15 and gives 30-day access to All-You-Can-Eat data along with 300 any-network minutes and 3,000 texts. Or All in One 25 costs £25 and offers All-You-Can-Eat data, 500 minutes and 3,000 texts and for a 30-day period.

Key features
• Large 4.0" WVGA Super AMOLED display
• Fast 1.0 GHz dual core processor
• 5 megapixel camera with auto-focus and LED flash
• Notification light
• VGA front camera
• 1500mAh battery
• Up to 8GB internal memory
• Android 4.1 (Jelly Bean) Operating System
• NFC