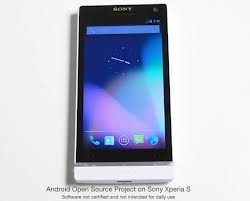 Some of you may have been aware that Sony have been busily working away with Google to try and develop the Xperia S as a quasi Nexus device for developers to tinker with. Well there has been some good news from the Sony camp as they have got a working version of pure vanilla Jelly Bean running on the device as evidenced by the video below. The next step is that Sony are taking over the lead from Google's engineers on this to try and develop JB 4.2 on the Xperia S.
http://www.youtube.com/watch?v=2UnydjgfonA
Why is this exciting news? Well this can only be a good thing for future development of Sony software and also hardware as it is going to learn some important aspects of how to work with the Google OS to achieve what it wants instead of just applying skins over the top to duplicate functionality. It also may put the potential for Sony being able to work on a Nexus class device in the future (some of you may remember the elaborate hoax about this earlier last month). Either way I am excited by this news and I look forward to seeing what comes of it soon.
Press release from Sony Dev team
Sony takes lead on AOSP on Xperia™ S project
For some time now, Jean-Baptiste Quéru (JBQ), technical lead of the Android Open Source Project (AOSP) at Google, have been working to get the AOSP running on Xperia™ S. Today, we are moving the AOSP on Xperia S project from the main branch of the AOSP to a Sony git on GitHub. This is because while JBQ considers the Xperia™ S AOSP experiment a success, from Jelly Bean MR1 Xperia™ S will not be kept as a target device on the main AOSP branch. However, as we can see a great interest from the community we will continue the work on a Sony git and keep it open for external partners and developers to contribute. Read on as Björn Andersson and Johan Redestig, software engineers at Sony, explain more!

Johan Redestig and Björn Andersson, software engineers at Sony.
Hi! We're Johan Redestig and Björn Andersson, and we work as software engineers at Sony. We have both worked with Android bring ups since Sony Ericsson's first Android smartphone was developed, and we are both frequent contributors to the AOSP. Feel free to check out the AOSP website to find contributions by Johan Redestig and contributions by Björn Andersson. Now going forward, one of our tasks will be to maintain the AOSP on Xperia™ S git from Sony side.
From our side, it's quite understandable that the Xperia™ AOSP project is now moving to our GitHub, as Google can't maintain non-Nexus devices on the AOSP main branch in the long run. From Android 4.2, Xperia™ S will not be kept as a target device on the main AOSP branch. However, ever since JBQ started the AOSP on Xperia™ S project, we have seen a great interest from the community, and this is why we want to continue the project ourselves. We also see a lot of benefits in this ourselves.
When we're now continuing the project, it means we will have a great tool to verify and facilitate contributions to AOSP. And since it is an open project, we will be able to collaborate with Google and Qualcomm as well as with the open developer community.
Technical status of the project
As for the current status and progress of the AOSP on Xperia™ S project, we actually have a lot of things working now. With the code we're now making available on GitHub, AOSP now boots up, and we have the SD-card, Wi-Fi® and sensors working. And as you can see in the video above, internally we also have audio and the modem running. However, these functions require proprietary binaries that we cannot publish at the time being.
Going forward, the next steps are to replace some of the previously published binaries with source code, and to get Android 4.2 working on Xperia™ S. This can be used as a development platform, and as a base for the work of opening up source code for more modules. For the latest technical status, check out the project on GitHub.
We hope to see many of you developers from the open Android community participate in the project, so if you are interested in making contributions, head over to the project on GitHub. Make yourself familiar with the code and feel free to have a look at the issue list to see where you might be able to help out. And if you have any questions, drop us a comment below!
Source Sony Dev site