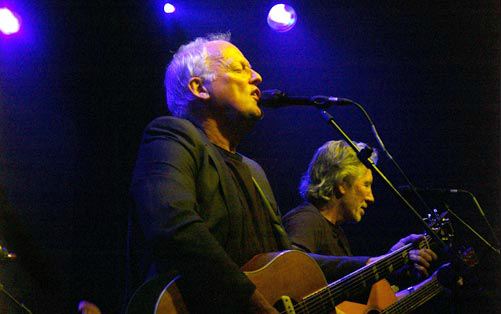 Right, RIGHT… that's it. This has been doing my head in for days. I'm sure that they're lovely people, but the PR team for this app have been badgering me for ages about this particular app and I'll admit, I've caved in.
But, I have no idea who this David Gilmour guy is. Sorry. Que the tirade of abuse.
There's now a "David Gilmour in Concert" app for iPhone, iPad and iPod Touch. You'll also soon be able to get it for Android too. If you're a big fan of this Gilmour guy, grab the app and enjoy listening to him play the guitar or something. I'm sure he's NO-WHERE NEAR as good as I used to be. Yes, I was a music genius too – I had the triangle in music lessons at school. Rock. And. Roll.
If you're into your apps and games and want the very latest news on the mobile gaming world, don't forget to check out our sister site – TheCoolGamer.com for all the latest.
Link – David Gilmour
DAVID GILMOUR IN PORTABLE CONCERT
An App First From David Gilmour and EMI

Released 19th November 2012 £5.99 $8.99 Euros 6:99

The best-selling 'David Gilmour In Concert' full-length show, originally released on DVD, is now available as an App for iPhone, iPad and iPod Touch, and will shortly be available as an Android version. For the first time ever, all the content of an original DVD is contained in an App – including the extras – in a viewable form for portable devices.

In 2001 and 2002, Pink Floyd's singer and guitarist David Gilmour performed some solo dates, originally as part of Robert Wyatt's Meltdown Festival at London's Royal Festival Hall, returning to the venue in the subsequent year. Playing in a solo context, the critically acclaimed run of concerts saw David Gilmour performing some tracks with just voice and guitar, and others with a mostly acoustic group including double bass, guitar, cello, drums, a large vocal choir, and the late Michael Kamen on piano and cor anglais. In 2001, Robert Wyatt guested on 'Comfortably Numb', while the 2002 concerts also saw contributions from Bob Geldof ('Comfortably Numb') and Pink Floyd's Richard Wright ('Breakthrough').

Now, in 2012, using new technology pioneered by London authoring house The Pavement, EMI and David Gilmour are able to present all the features of the DVD as a smartphone App. Said Andy Evans of 'The Pavement': "We worked closely with David and his team on the multi-format 'Live In Gdansk' project and followed that up with the DVD menu design and authoring of the 'Why Pink Floyd?' campaign, so it was a pleasure to be able to rejoin forces and take the lead on such a quality programme."

'David Gilmour In Concert' has been a very successful worldwide release from EMI since its launch in 2002, presenting the Pink Floyd guitarist and singer in an intimate context at the Royal Festival Hall, London. Directed by the award-winning David Mallet, the original programme's features have been retained in full.

The concert songs are: Shine On You Crazy Diamond (Parts 1-5), Terrapin, Fat Old Sun, Coming Back To Life, High Hopes, Je Crois Entendre Encore, Smile, Wish You Were Here, Comfortably Numb (featuring Robert Wyatt), Dimming Of The Day, Shine On You Crazy Diamond (Parts 6-8), A Great Day For Freedom, Hushabye Mountain, Breakthrough (featuring Richard Wright) and Comfortably Numb (featuring Bob Geldof). Extras include 'Spare Digits' (closeups of David Gilmour's guitar parts), 'Home Movie' (shot at rehearsals), High Hopes Choral, I Put A Spell On You (with Jools Holland and Mica Paris), Don't and Sonnet 18.

The 2001 songs (concert tracks 1- 13) were shot in HD, while tracks 14-16 of the concert footage and the extras were shot in standard definition. The App works exactly like its source DVD – full of rich video and audio material with interactive motion, menu navigation options and bonus extras. The quality of the HD footage can be especially enjoyed on the latest range of tablets, many of which have enhanced screens for HD viewing.

It is envisaged that this new process could open the door for many other classic musical performances to be made available as Apps to be enjoyed on mobile devices, away from the restrictions of the home DVD player.