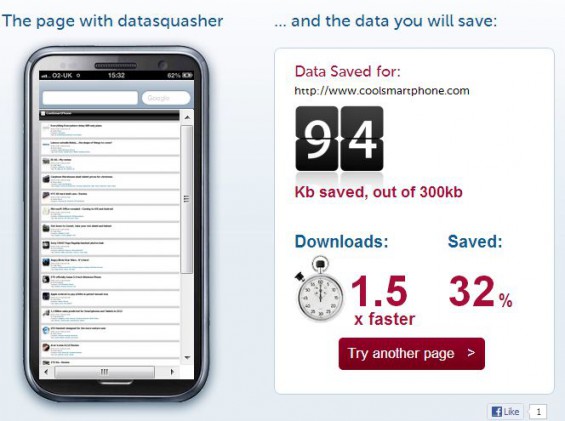 Data, whether we like it or not, isn't as plentiful as it should be. In an ideal world we'd pay £5 a year for unlimited internet, but sadly that's not how things work. So, the dudes at datasquasher have come up with an iPhone app which will reduce the amount of wireless data consumed.
The online demo shows how you can reduce data use, get a faster browsing experience, protect yourself from malicious websites and monitor when your data goes. If you don't have an iPhone then you can sign up to find out when the Android version is available.
Full press release below.
Link – datasquasher
Smartphone Users Given Control over Mobile Data by datasquasher™

New iOS app lets users control, compress and track their mobile data usage

London, 8 November 2012: A new iPhone app called datasquasher has been launched today to help smartphone users take control of their mobile data usage. The app puts the power of mobile browsing in consumers' hands, allowing them to control, compress and track how much mobile data they are using to save money and enhance their browsing experience.

The vast majority of smartphone users want to control their mobile data usage – 68% stating that it should be up to them to determine data usage in a recent survey carried out by On Device Research. In the same survey, only 23% said they were happy for their network operator or content provider to have that control.

Consumers also want better speeds when browsing on their mobiles. The On Device Research survey found that 83% want faster mobile data so they can watch videos and see pictures on a web page more easily.

datasquasher, which has been created by British mobile data solutions specialist millenoki, can help smartphone users gain control over and speed up their mobile data. datasquasher uses secure servers to compress data and is available from the App Store today.

datasquasher can reduce mobile browsing usage by up to 90%, so any UK mobile data users without an unlimited data plan will be able to make considerable savings. Even for those on unlimited data plans datasquasher is a useful tool as it considerably increases browsing and download speeds.

"It's hardly surprising that smartphone users want both greater control over their usage and better browsing speeds," said Dan Field, CEO of millenoki. "What is surprising, however, is that, until now, there has been little on the market to give UK consumers real-time visibility into their mobile data usage."

Smartphone users don't have to change the way they use their phone to benefit from datasquasher. Because control is in the user's hands, they can switch off videos or alter image quality to reduce data. datasquasher also removes unwanted, data-hungry ads and blocks adware, spyware and malware. The overall mobile browsing experience is faster and more immediate.

datasquasher also allows users to track their monthly data usage or interrogate usage over a specific period. Up-to-the-minute reporting of their data allowance gives users the tools to use their data as they wish.

"Even on 3G networks, smartphone users have little idea of how and where they use their mobile data, and often, very little idea of what they can get for a megabyte or for their monthly allowance of 500mb," Field continued. "Users frequently switch off their data when abroad for fear of running up huge bills. People are either running blind with their mobile data usage or too scared to use it: either way, it doesn't make for a happy marketplace."

New, faster 4G mobile networks will encourage users to browse more, and therefore use more data. With capped data packages increasingly the norm, and big charges for exceeding the cap, it's now more crucial than ever for smartphone users to use a service like datasquasher to be able to track and manage their usage and save money.

"Put simply, datasquasher means control and that brings safe browsing, lower data bills, faster internet and the ability to completely track and manage mobile data use," Field added. "Using less data means saving money, and quicker browsing means less time waiting for pages to load and longer battery life. It gives control back to smartphone users."

To download datasquasher, go to http://datasquasher.com/download.