Comet. Unless you've been living under a rock you'll know that they've gone into administration. It's now looking increasingly likely that we'll lose that lovely big electronics shop and we'll no longer have anywhere to measure up TV's, fiddle with laptops or buy completely unnecessary extended warranties.
But this morning.. in about 5 minutes, the doors of Comet stores up and down the land will open and remaining stock is sold off cheap. The stock liquidation signs went up last night (our lovely Twitter followers already knew this though) and there'll no doubt be queues in retail parks as we type.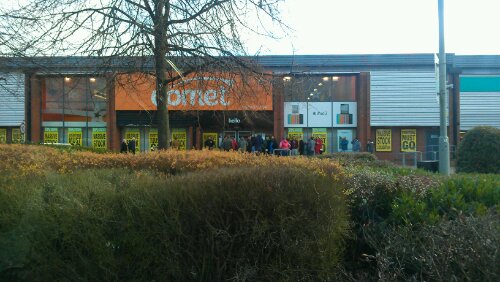 If you fancy a bargain / fight whilst trying to get the attention of some severely stressed staff, head down there and let us know how you get on. It's easy to find – just follow those people buying three of everything and then sticking them all on eBay to make a few quid. Grrrr…. (shakes fist)
Oh and no, I'm not going to link to the Comet website because it's busted. Use your feet people, and do send us snaps of the inevitable carnage inside the stores. Thanks. 🙂
Update – There's quite a queue outside my local store and it looks like prices are getting slashed by 30%.
Update 2 – We're hearing that not everything is 30% off. iPads are full price and there's a measly 10% off most other things.
Update 3 – Twitter follower "Frowbags" tells us…
Small kitchen electricals 20%, cameras, TVs 10%, PCs and accessories 10-15%. Kindles 10%, iPad / iAnything nothing off.
Bobbins….