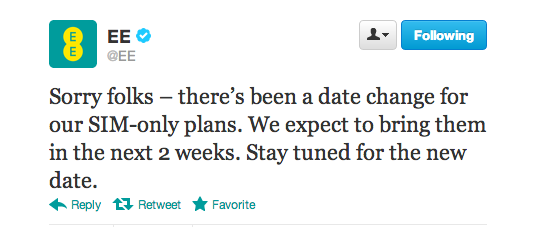 We've just seen that EE have decided to delay their SIM-only plans for up to another two weeks. The network announced the move in a tweet earlier today:
Sorry folks – there's been a date change for our SIM-only plans. We expect to bring them in the next 2 weeks. Stay tuned for the new date.

— EE (@EE) November 8, 2012
@ee can you clarify why they have been delayed?

— Jamie Hoyle (@mightyshakerjnr) November 8, 2012
We've reached out to EE to see if they will clarify the reason behind the delay, but I'm not holding out much hope! Others are similarly intrigued by the decision, with questions floating around about pricing.
@ee What about prices? Releasing those early before we can sign up?

— Rob Lawton (@roblawton) November 8, 2012
Of course, that one hasn't got a reply either! It's fair to say that the EE launch hasn't been the most successful launch ever, with a Twitter account that seemed to be on auto-reply for around a month, 0845 help lines not being activated and user guides not downloading properly from their website. These are just some of the issues posted by EE user called 'Nono' in a thread entitled 'Shambles' on the EE forums. Our own Leigh Geary seems to be on the whole positive about the whole EE4G experience, although he does advise caution regarding data limits. Do you think that the EE launch could have been better managed? If so, how would you have improved it? Let us know below. For now, I'll leave you with EE's first TV advert, starring Kevin Bacon:
[yframe url='http://www.youtube.com/watch?v=4IdlSHI1CMk&feature=plcp']