The whole time I have had the Iconia A110 I keep looking at my Nexus 7 and wondering how it handles what I'm testing. It has been a difficult one to review, but here we go. First of all my good and bad points:
Good points
Tegra 3 Quad Core CPU/GPU
1GB RAM
MicroSD Slot
HDMI Slot
Android 4.1 Jelly Bean
7″ display
Bad points
Only 8GB internal memory
Slightly lower resolution than equivalents
Slightly more expensive than equivalents
Hardware & Design
Here is the spec:
Dimensions – 193mm x 126.5mm x 11.4 mm
Weight – 390 g
Display – TFT capacitive touchscreen, 600 x 1024 pixels, 7.0 inches (170 ppi pixel density)
MicroSD slot up to 32 GB
Internal Memory – 8 GB storage
1GB RAM
Camera 2 MP front facing Video 720p@30fps
Nvidia Tegra 3 T30L CPU Quad-core 1.2 GHz
GPS
HDMI port
Battery 3420 mAh
During my time with the Iconia two things keep grating on me, the screen isn't as bright as other devices, the resolution means it feels even long and narrow and viewing angles were a little odd.
Having a memory card slot and a hdmi out slot means that this is going to be a tablet for Multimedia fans not necessarily gaming fans. Sound quality is good and the speaker is a little tinny.
Battery life is a bit worse than the Nexus 7 as its rated at 4325 mAh compared to 3420 mAh in the Iconia. In real life this means that it won't last as long playing films or music.
Design wise the Iconia is pretty basic as well, it's a rectangular device with a large bezel and a few buttons and ports. Nothing stands out at all. Here are some shots of the Iconia: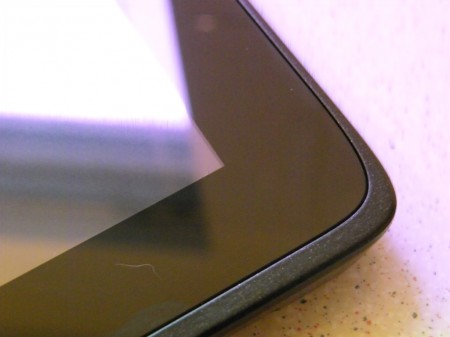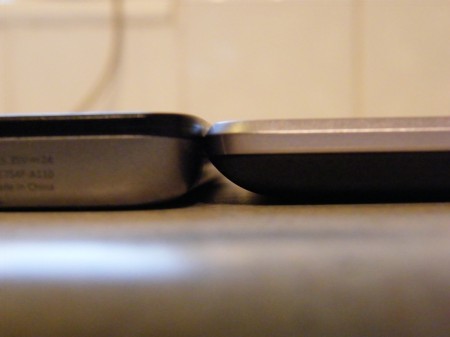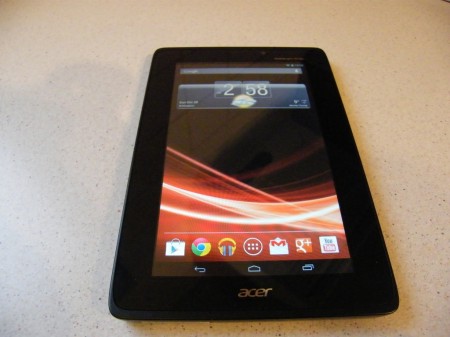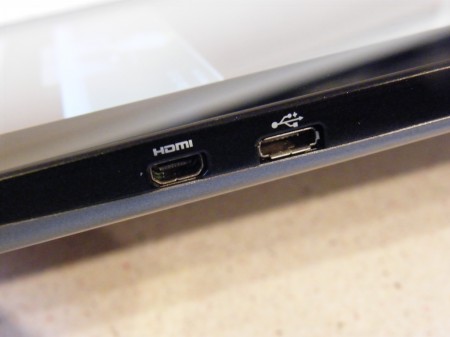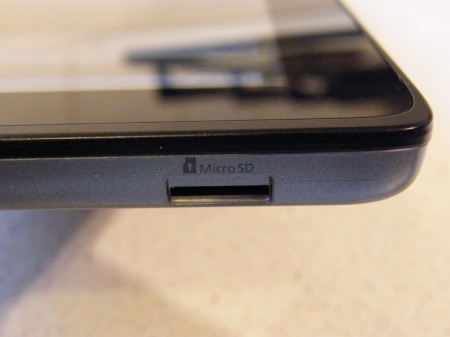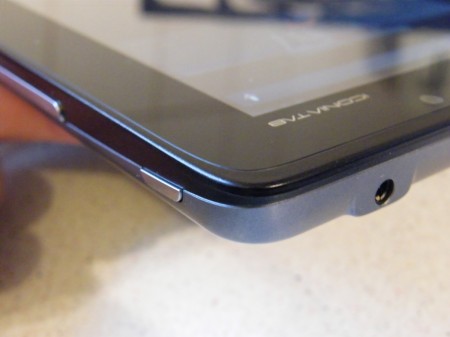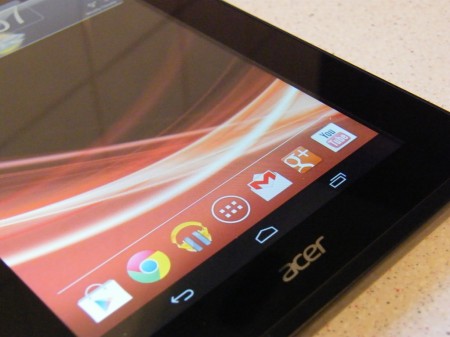 Software
The Iconia handles everything you throw at it, to try it out I install a few multimedia apps, a few games and some benchmark apps.
BBC iPlayer works exactly as you would hope, with no lag and certainly not difference in audio and video streams.
TV Catchup took quite a while to load, but once there it worked with no lag or stream difference. They have done a good job of updating it to work with JellyBean.
7 Digitial is a really useful app for getting music onto devices that don't have much internal memory. Although using a memory card on the Iconia this wouldn't be a problem. Sound quality is pretty good, the speaker is loud but a bit high pitched. With headphones it is quite bassy. A graphic equalizer would be a good idea to level the sound out.
The Iconia A110 runs JellyBean and Acer have barely done anything to the build at all, during my time with I even saw an OTA update for it so Acer are keeping it up to date with bug fixes. Features like Google Now and the expandable notifications are present in all of their glory. Having JEllyBean installed meant I could access the latest apps and synchronise my bookmarks etc with my desktop. Little things like make life easier.
Reading books from the Play Store is nice as the A110 is a decent size to hold and read with. You could even store eBooks on the SD card and read them with a third party app.
Benchmark wise the Iconia A110 scored 3865 on Quadrant and 10168 on Antutu which basically puts it in the same area with the Nexus 7.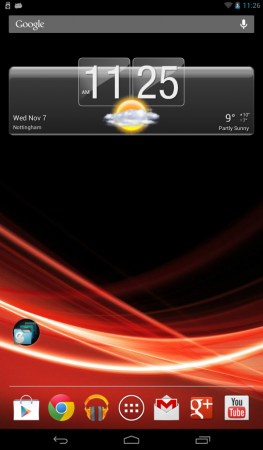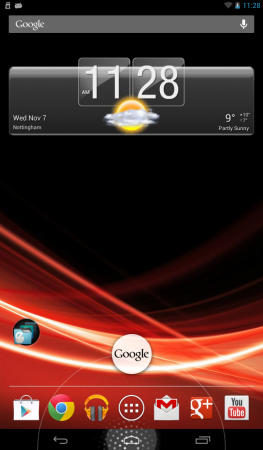 Conclusion
The Acer Iconia A110 arrived on the scene a little bit late, everything you do with the Iconia you think about using the Nexus instead. I think the design and the hardware really put me off. the fact it was released after the Nexus 7 and cost more than the 8GB model didn't help either. Although the price of the A110 does keep dropping and if you want a small tablet to fill with films and music then the A110 is definitely the one for you. If your wanting to play the latest and greatest Tegra 3 games then I wouldn't bother.
I liked the Iconia though don't get me wrong. This situation is going to crop up more and more, where Google or Amazon or someone else basically sell the product at cost and it forces competitors to cut corners hardware wise to meet a price point. No doubt Acer had to scrimp on storage and the screen to get the Iconia A110 under £200.