Samsung, fresh from their titanic lawsuit with Apple, are pressing forward with their great work in recent years in display technology, by filing for a patent on an intriguing tri-fold flexible display, it has emerged.
PatentBolt have reported that a recent Samsung IP paper outs the patent, and includes a number of graphical examples of the display's functionality and mechanics.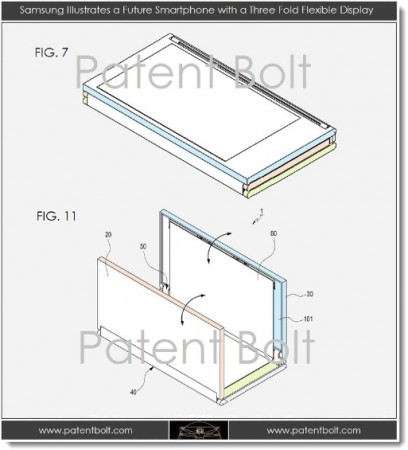 The prospect of a flexible display, potentially using plastic instead of glass, has long been the panacea of the mobile industry; a device that would truly revolutionise the way in which users consume media. The ability to manipulate the form factor of a particular device, say from smartphone footprint, to tablet and back again, would truly be a unique selling point for any range of devices and could see current 'Phablet' trend, stopped in it's tracks.
How the display is to be utilised, and when any device sporting it might surface remains to be seen, although some rumours suggest a device from the South Korean outfit could surface as early as 2013-14, and could sport a 5.3″ Super AMOLED HD Dual Display and running Google's Android OS. However the mere fact that a display giant such as Samsung is moving forward with prototypes to the point of patent is something that is truly exciting.
If Samsung manage to be the first to the market with a device sporting a flexible display, could this turn out to be that 'next big thing' that Samsung is looking for to firmly re-establish themselves in the mobile market following recent bad press? If the device is anything like the widely reported concept phone from last year, the Galaxy Skin, we think it has a good chance!
Source – PatentBolt – Daily Mail Concept Picture