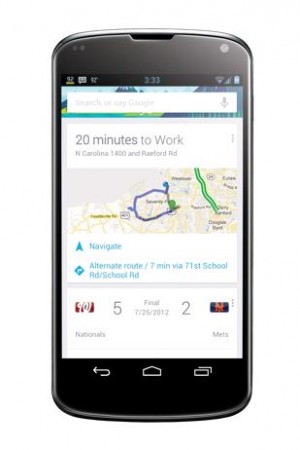 Todays event may have been cancelled but that hasn't stopped Google from announcing official details of their latest Nexus Device. It'll be called the Nexus 4 and will be made by LG. Its essentially the device all the leaks have pointed to for the last few weeks.
Here are the specs:
• Chipset: Qualcomm Snapdragon™ S4 Pro processor with 1.5GHz Quad-Core Krait CPUs
• Operating System: Android 4.2, Jelly Bean
• Network: 3G (WCDMA), HSPA+
• Display: 4.7-inch WXGA True HD IPS Plus (1280 x 768 pixels)
• Memory: 8GB / 16GB
• RAM: 2GB
• Camera: 8.0MP rear / 1.3MP HD front
• Battery: 2,100mAh Li-Polymer (embedded) / Talk time: 15.3 hours / Standby: 390 hours
• Size: 133.9 x 68.7 x 9.1mm
• Weight: 139g
• Other: Wireless charging, NFC
Also announced was a new accessory called the wireless charging orb, which is very similar to the Palm touchstone that shipped with the Palm Pre. The device will also be running Android 4.2 which we are getting more details about shortly.
The phone will be available on the Play store for $299 for the 8GB model in the US. UK prices are £239 for the 8GB variant and the 16GB will only cost you £279.
The official Google post is here