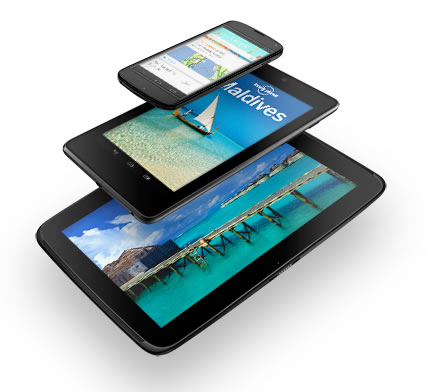 Well we'd heard the rumours, but Google's new Nexus tablet, the Nexus 10 has now been officially announced.
Part of its trilogy of devices (including the Nexus 4 and Nexus 7), the Nexus 10 will be available in Europe on 13th November.
Details are still coming through, but the highlights so far are:
Hi-res screen – 2560 x 1600 pixels (that's 300ppi)
Multiple user accounts on one device
Android 4.2
It's built by Samsung and will cost £319 for the 16GB version and £389 for the 32GB version.
See below for the press release highlights.
Link – Google announcement
Press release 

Nexus 10: Powerful and shareable Nexus 10 is the ultimate tablet for watching movies or reading magazines. We wanted to build a premium entertainment device, so we partnered with Samsung to do just that. Nexus 10 is the highest resolution tablet on the planet at 2560-by-1600 (300ppi), that's over 4 million pixels right in your hands. It comes with a powerful battery that will get you up to nine hours of video playback and more than 500 hours of standby time. With a set of front-facing stereo speakers, you can watch movies right from your Nexus 10 and they simply sound awesome. But what makes Nexus 10 unique is that it's the first truly shareable tablet. With Android 4.2, you can add multiple users and switch between them instantly right from the lockscreen. We believe that everyone should have quick and easy access to their own stuff — email, apps, bookmarks, and more. That way, everyone can have their own home screens, their own music, and even their own high scores.

Pricing: 16GB for $399; 32GB for $499; available on 11/13 in the Google Play Store in U.S., U.K., Australia, France, Germany, Spain, Canada and Japan.