Writers for tech web sites, such as coolsmartphone, spend years gaining contacts for getting insider information and leaks. These days, however, all that's needed is to stand outside a branch of Carphone Warehouse! Hot on the heals of the inadvertent early launch of their Nexus 4 pre-order page, they have now started to put out point of sale posters in stores, detailing prices and specs. All this when Google is having to delay the Nexus event due to hurricane Sandy.
XDA-Developers senior member adamski123 has been for a wonder around town and noticed that there's two different pieces of marketing material in his local store.
The first revelation is the holy grail of all product launches – the price. On contract, Carphone Warehouse will be offering the handset free on a monthly contract for £31 per month, or SIM free for £389.95.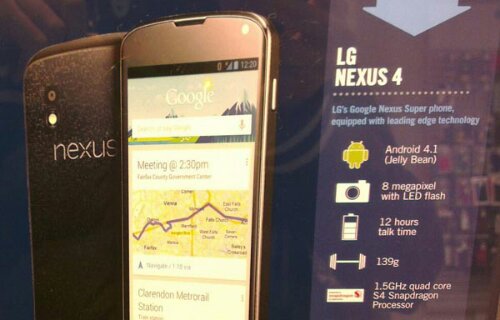 The second one shows a large image of the device itself, along with some details including the weight of 139g, an 8MP camera with LED flash and a 1.5 GHz, quad core S4 Snapdragon processor. Intriguingly, it also states that it'll have Android 4.1. This may well be a typo but, if true, it means Google won't be revealing Android 4.2; not on the Nexus 4, anyway. Below the LG Nexus 4 title and above the specs is a little tagline, which claims the device is "LG's Google Nexus Super phone, equipped with leading edge technology".
It's not clear as to what the internal storage will be, as it's been speculated that their will be 8GB and 16GB versions, so it's difficult to gauge exactly what you'd get for your £390, so at least Google will have something up its sleeve. Well, that's assuming Carphone Warehouse don't decide to let some more cats out of bags!
I think the likelihood of Google stopping these leaks diminishes with every day that Hurricane Sandy delays the Nexus launch in New York City.
Would you pay £390 for an 8GB quad core LG handset?
Source: xda-developers