Anyone who likes looking for leaks on new handsets and who are on twitter needs to check out @evleaks, and once again they have produced the goods….this time in what appears to be the brand new 'Nexus' phone under the name LG Nexus 4 and is expected to be announced on the 29th along with some other Google goodies.
The Nexus brand is all about being pure android…. no operator branding… no skins on top, just how Google designed the OS.
So far we have had the HTC Nexus One, the Samsung Nexus S, and last was another Samsung in the Galaxy Nexus.  Now it seems LG are stepping into the arena to produce this new one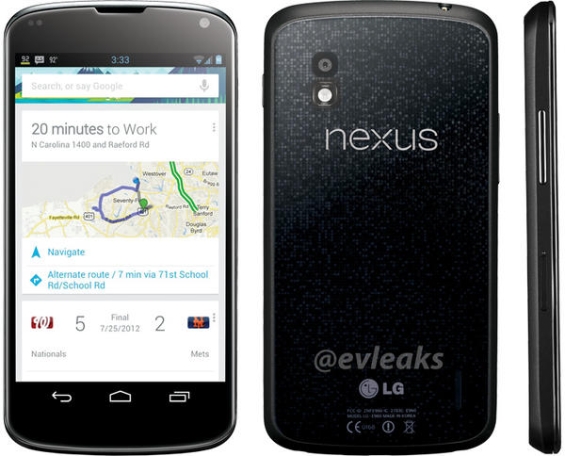 Whilst we still do not know the official specifications, we do have a good idea what this device will have and that is
Android 4.2 JellyBean (new version)
1.5Ghz Quad-Core processor
4.7 inch screen
1280 x 768 pixel resolution
2GB RAM
16GB storage
8 Megapixel camera
720p front facing camera
This is not the first time we have seen this new phone, there is a website out there who has already got hold of a prototype phone and put together a review of sorts but this is the first time we have a device with the Nexus branding on the back and what looks like official press images.
As mentioned before, we are expecting this new Nexus to be announced in just a few days time at a Google event on the 29th.  Check back on CoolSmartPhone for more information as it comes out
Link: @evleaks