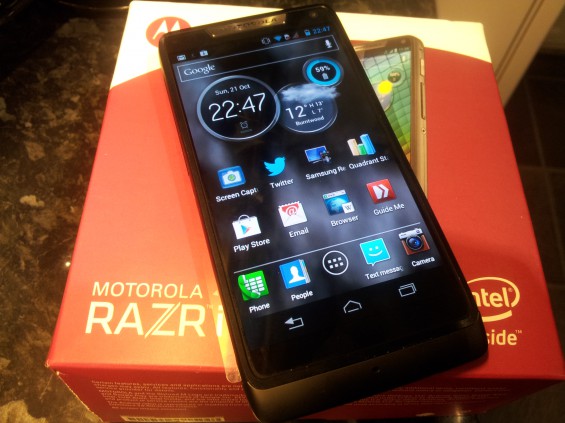 So, we took a look at the Motorola RAZR i a couple of weeks ago but I wanted to take another look. First impressions, I have to say, are rather good. I instantly thought the battery wasn't in the phone when I took it out of the box. But it was in there, I just felt that it was extremely light. A good thing, definitely.
Motorola? What ever happened to them? In my eyes they're had a rough time. A lot of kit they produce has been good, but the extra software tweaks have either harmed the experience or produced a disjointed product.
First up, the obligatory overview video 🙂
Are you concentrating ? Right, here's the specs, we've got a 4.3″ Super AMOLED screen running at a 540×960 pixel resolution (256 ppi), a 2000 mAh battery, 8 megapixel rear camera (with HD video capture), 0.3 megapixel front camera, microSD expansion and 5GB of on-board storage.
There's also WiFi, GPS, sensors-a-plenty, NFC and 1GB of RAM. Oh, and it's splash-proof too.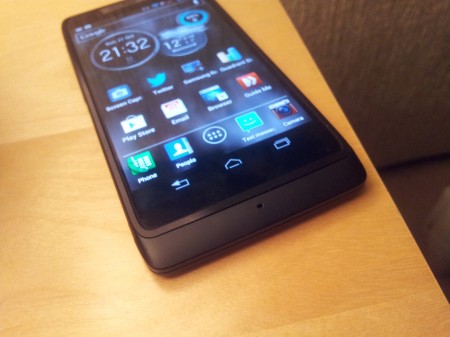 But wait, get this – it's got a single core 2GHz Intel Atom CPU. Hahahhaa!!! Single core. How retro. This is going to be hilarious kids, come and have a seat for this.. it's going to be a disaster.. Hahahhaa…..
..oh wait… This is really rather nippy. Benchmarks show it running faster than a Galaxy Tab 10.1 and Galaxy Nexus. The 400MHz graphics processor running alongside seems to boost performance still further.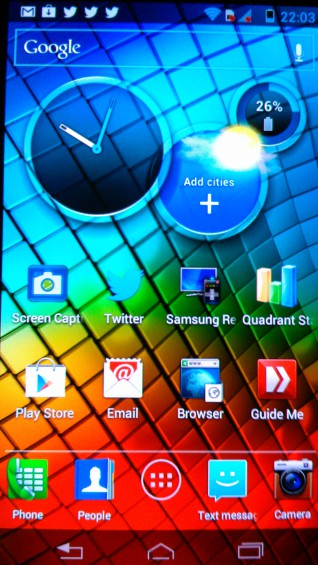 Software
Just to flip this review upside down I'm going to start with a look into the software. Forget MotoBLUR. It's (thankfully) in the bin. In its place is a rather polished and fluid interface which matches the phone well. On the main screens up top you'll get helpful hints which merely point the way instead of getting in the way. Sweep to the right and you'll get a couple of tips asking whether you'd like to create a blank page or use a template. There's also perhaps one of the best help systems I've ever seen. Called "Guide Me" it gives clear, concise and fast instructions on how to use the various aspects of your RAZR i.
But perhaps I'm getting ahead of myself a little. The first thing you'll notice is the screen. It's very bright and the screen is rammed right up against the screen, giving it a real "floating" feel.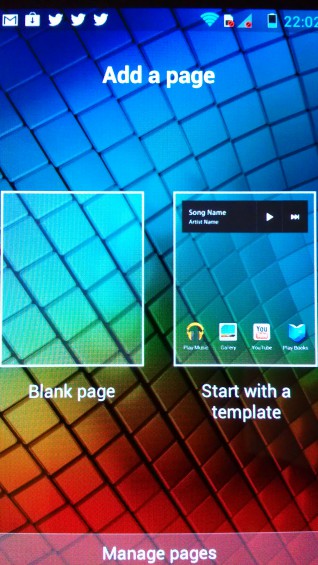 Out of the box you can sweep to the left and you get straight into the quick-settings. You can quickly change the phone ringtone, turn the WiFi, Bluetooth, GPS, Mobile Data and the Flight Mode on or off quickly and easily. You can also get into the rest of the settings here too. There's a "Data usage" option here too which, I must admit, is a nice touch – especially if you're on a PayAsYouGo plan. The settings screen is colour coded and really easy to navigate – and here you can turn the NFC on or off too.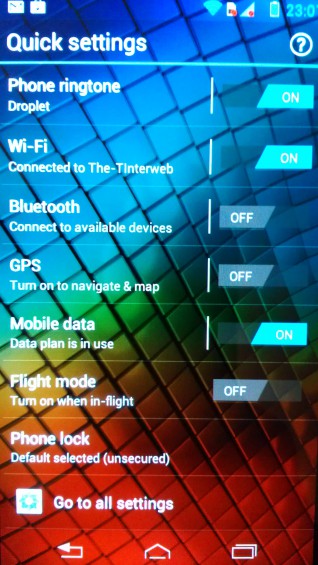 To speed things up a little, I've decided to cover the software side of the handset in a video overview, which you can see below. It's a very quick and fluid experience, with email / GMail easily accessible, all the Google apps (Maps, Latitude, Navigation and so on) installed out of the box and a Movie Studio application for editing your HD videos on the phone itself. The great thing about the phone – this SIM-free one at least – is that there's no extra bits and "filler" apps. It's relatively uncluttered, with a pretty standard version of Android 4.0.4 on board.
One feature I particularly liked was the Motorola Smart Actions. This is a set of rules which help to extend your battery life and make your life easier by switching rules and firing apps based on your activity, location or the time. For example, you can set a rule to automatically trigger car mode, turn up the volume and start the Google Maps app when your car Bluetooth kit connects. Then, for your calendar events which trigger whilst you're at work (GPS location) you can get it to turn down the ringer volume and auto-reply to text messages. You can even get it to allow certain calls through.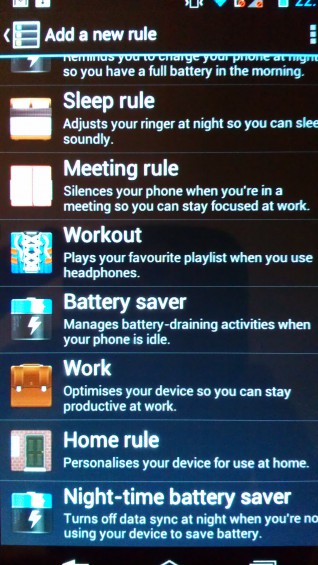 Outside
The design of the phone has an arrow-like appearance when you view it from the side. I had a tiny twitch appear in my eye when I saw how the point at the end is actually a separate piece of plastic. I'm not sure what it is really, but certain parts of the phone look a little unattached. I could also see the flashing LED through the joins in the phone.
There's a Gorilla Glass screen, a splash-proof coating and "DuPont Kevlar". It's also made from aircraft-grade aluminium, making it both light and strong.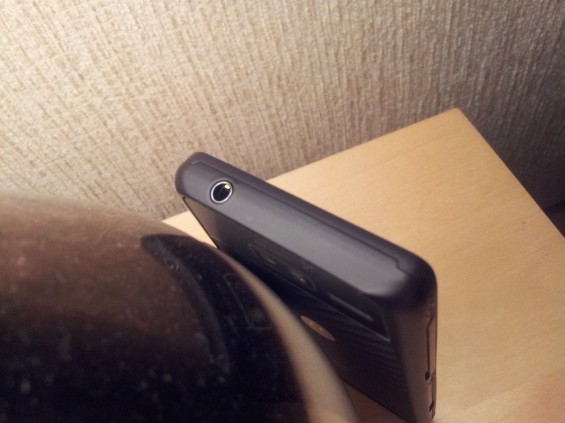 However, the phone is pretty thin. It's also light and well put together. At the top there's just a 3.5mm audio port for plugging in your headphones or hands-free kit.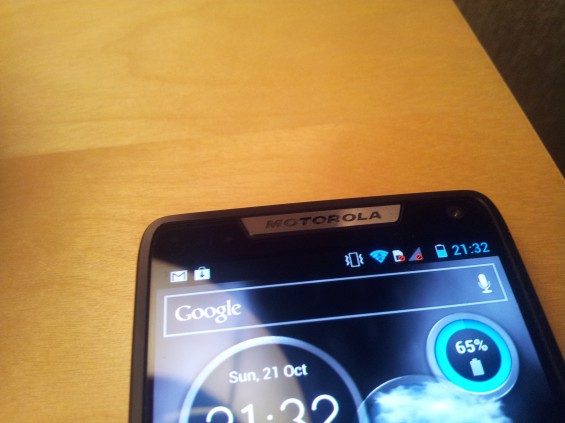 On the front of the handset itself there's no buttons at all – just the screen and a microphone at the bottom and a Motorola logo up top covering the earpiece. To the left of that is an activity LED and, to the right, the VGA camera for video calls and filming yourself. The softkeys are actually on-screen, and they will pop up when needed. It just shows how far we've come when these "keys" aren't actually keys, they're just areas on the screen with shapes signifying the buttons you need. It feels so natural.


On the left side there's a small flap covering the microSD and microSIM slots. You get a small tool for accessing these slots and removing / inserting your cards. There's also the microUSB port for charging and moving data around.


The right side of the phone has the volume up / down controls and a nice easily-clickable power button. Down the lower portion is the camera button and, joy of joys, it'll automatically fire up the camera even when your screen is off. I'm LOVING this. It's quick too. Imagine you want to take a photo quickly – just hit this and it'll fire up in seconds. Actually .. "seconds" probably isn't right. I counted 2 seconds for it to be ready to snap a photo.
Around back, the HD camera sits on a smooth plastic section with the flash. Below that is a strange rubberised portion with a rather interesting design. The Motorola and Intel logo sits in the centre and it does give you a good grip, even if it does break up the design a little.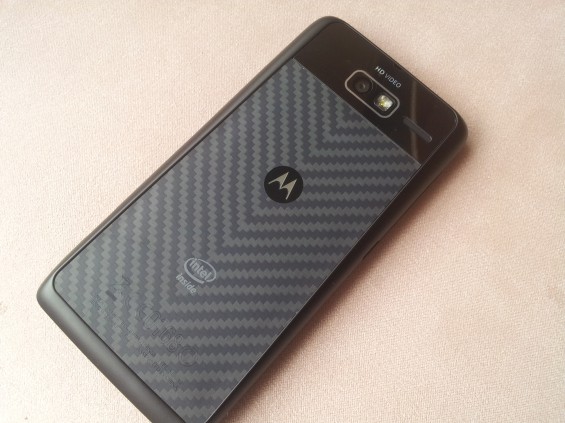 Camera
As I mentioned before, the camera is fast and has a myriad of options and adjustments. It fires up quickly thanks to the single-button start-up and focuses quickly in both camera and video mode. You can change between HDR, burst and timer shot (for those moments when you want to take a shot of yourself with the rear camera) and you can switch to the front camera easily too.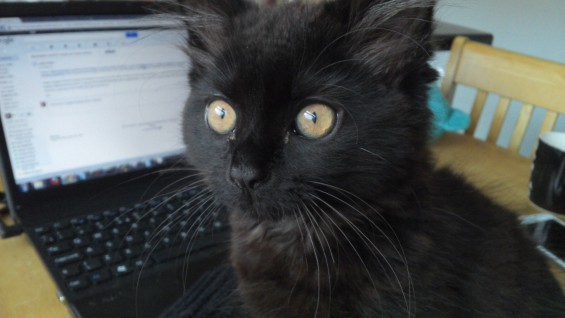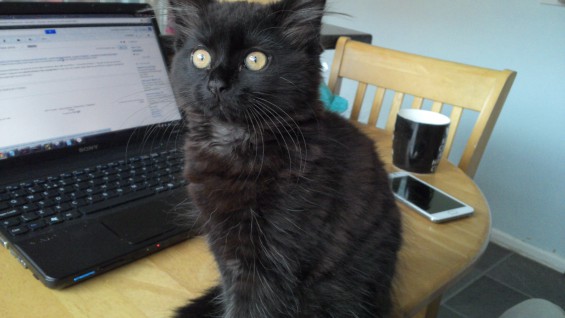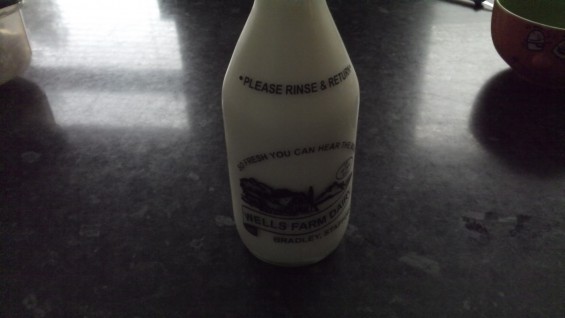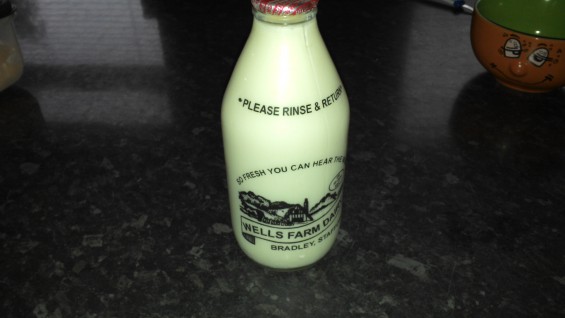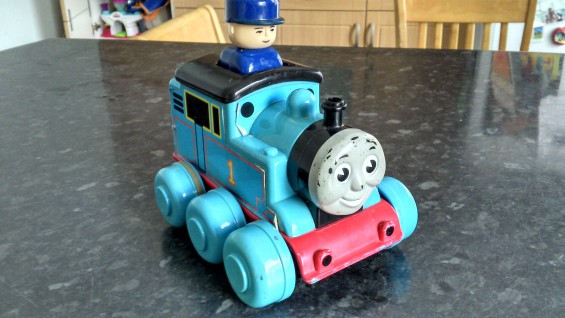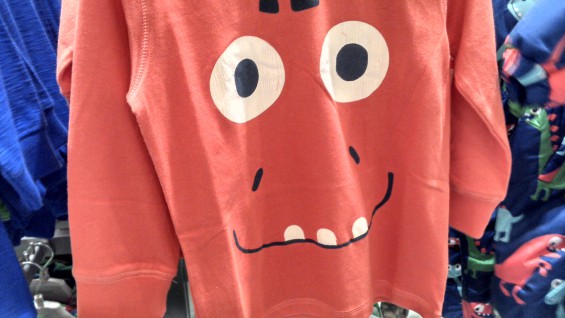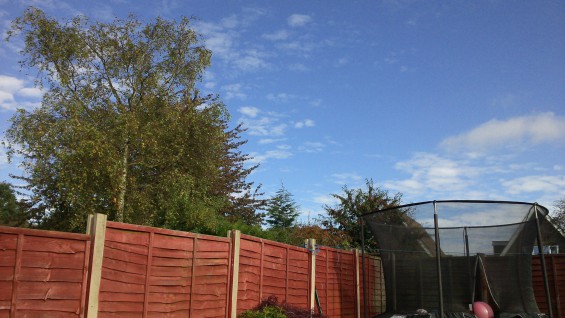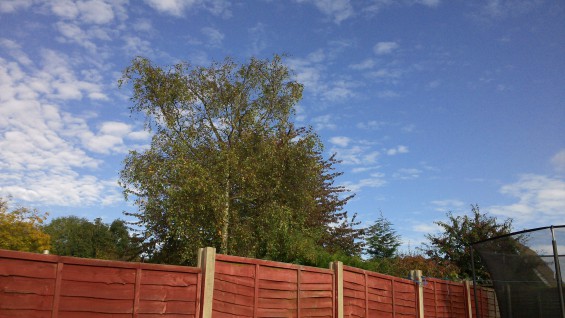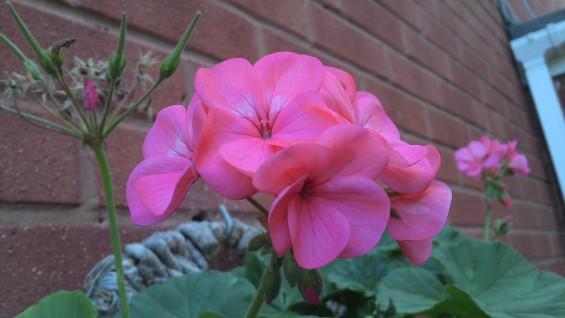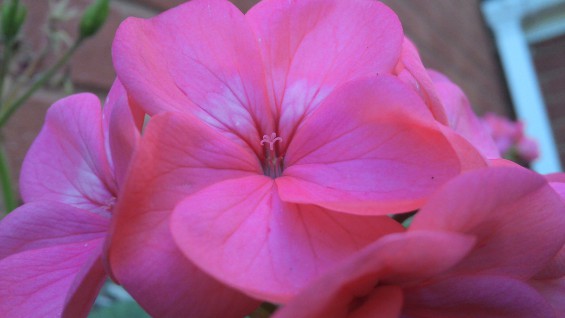 The video option has a time-lapse and even lets you put the flash light on whilst you're filming. Below I've included a few snaps for you to enjoy, plus an example video showing my crazy cat…
This video shows the auto-focus capability, which automatically changes the focus depending on what you're shooting at..
Conclusion
Motorola have long been ignored in the smartphone market. Sure, I'll get flack for saying that, but it's true. If you're in Europe, let me know when you last bought a Motorola handset. This, with Google now owning the company, is actually a very impressive phone indeed. The battery life is great, the camera and video quality is spot on, the interface is slick, uncluttered and MotoBLUR-free.
Best of all, it's just the right size. It's thin, easy to hold and feels great in the hand. I didn't have to do any additional finger-stretching, it felt good in the pocket and I didn't have any qualms about using it without a cover or case.
The phone itself is being sold as the first "full screen phone" with an "edge to edge" display. Sure, the screen is close to the edge of the handset but it's not out of the ordinary. However, what I did find was the quality of that screen was excellent, and the battery faired extremely well. The on-screen keyboard was fast and nimble, and the screen size really suited the keyboard well. I rarely made mistakes and the predicted words were usually correct, making data entry really easy.
Honestly, although I have some extremely minor gripes about the split-personality design, this really marks a return to form for Motorola.
Get the Motorola RAZR i from Expansys