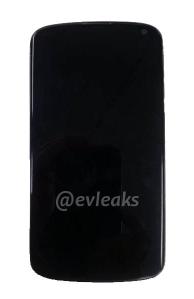 The end of October is shaping up to be a tad busy in the world of mobile communications.  With EE due to launch their 4G network, Microsoft holding their Windows Phone 8 and Google getting set to cause mayhem by holding their event on the same day as Microsoft.
Well, more pictures have surfaced today of the alleged new offering from Google, the rumoured Nexus 4 from LG.
The website Techonliner.ru has today published the images below showing the alleged new Nexus device which according to the official line does not exist.
The device is purported to contain the following specs:
Quad-Core 1.5GHz Processor
2GB Ram
8mp rear camera
4.7″ 1280×768 display
With more rumours surfacing of a 10″ Nexus tablet, the Nexus 7 with more storage options and a possible Sony Nexus what is actually going to be announced is pretty much anyone's guess but for now here are the rather good looking pictures!