Sony announced that the Xperia S was going on sale during Mobile World Congress back in February, however we are now in October and the S has been replaced as the flagship camera phone by the Xperia T.
The Xperia T really is a powerful high end smartphone with multimedia at it's core with one of the highest megapixel cameras,  amazing HD quality video recording and beautifully large HD screen bringing all your content to life.
A big thank you to the team at Three who arranged the loan device for us, details on the available deals from Three can be found at the end of this review.
But the big question is how will this phone do in our review?.  Read on to find out
Now onto the specs….
Android 4.0 Ice Cream Sandwich
13 Megapixel Camera
DC-HSDPA 42Mb/s
HSUPA 5.76mb/s
1.5Ghz Dual-Core Processor
Bluetooth, WiFi & GPS
16GB Storage
1850mAh Battery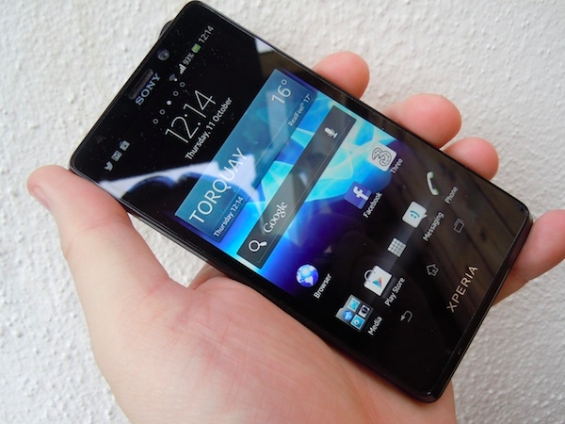 Sony have done a really good job of packing in lots of high end specifications you would expect on a flagship phone and also put it in a rather nice designed package with an arc design to make it fit in the hand better.  With 16GB of on board storage and memory card support you have more storage than you will ever need but it is there just in case you want to take your entire multimedia library with you on the go.  With a 1.5Ghz Dual-Core processor you're not getting the most powerful processor out there though. Quad-core phones are already on sale, however Sony have done a great job at making the Xperia T blazing fast and with little-to-no lag found during my 2 weeks with this phone.  Proof perhaps that more cores does not always mean a better phone.
Something also to remember is that the non-removable battery is built-in, so no access and no spare if you are a heavy user.  Thankfully a spare battery will not be needed anyway. During testing the Xperia T lasted until I got home with about 20% left at 6PM when I was then able to plug back in again for home use.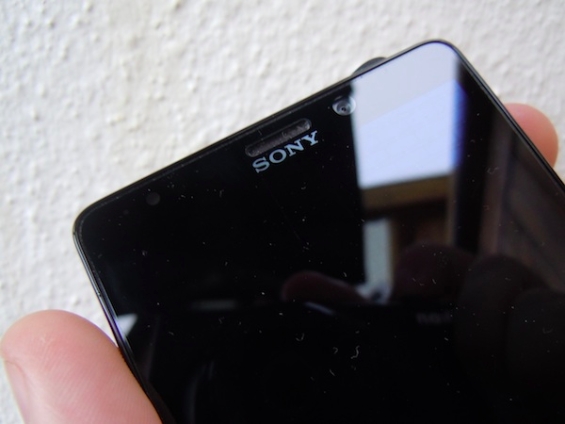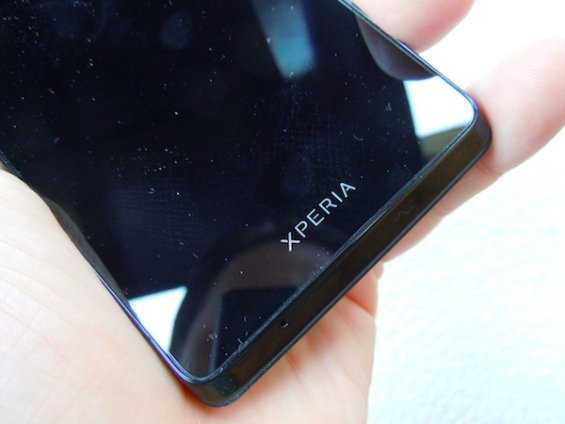 On the front of the Xperia T up top is the Sony logo and the front facing camera – a 1.3 megapixel shooter for capturing 720p HD video. This is great if you are into your video blogging or like to share your thoughts on video content sites such as YouTube.
You then have the very large Bravia-engine-powered 4.55 inch screen. It's simply gorgeous!.  The Bravia engine is great at adding that extra "oomph" to make the colours stand out and impress you. It doesn't have much effect on the battery life either, which is good news.  The screen a high resolution – 1280 x 720 pixels with a PPI of 323. You're unable to make out individual pixels, something also claimed by Apple on their Retina display which impresses millions of people worldwide.
Below the screen is the Xperia logo, notice no buttons here anymore!  The great news is that Sony have done away with the poor "tiny little dot" capacitive on-screen buttons seen on the Xperia S. Now the controls are via on-screen buttons which makes a massive difference when using the phone.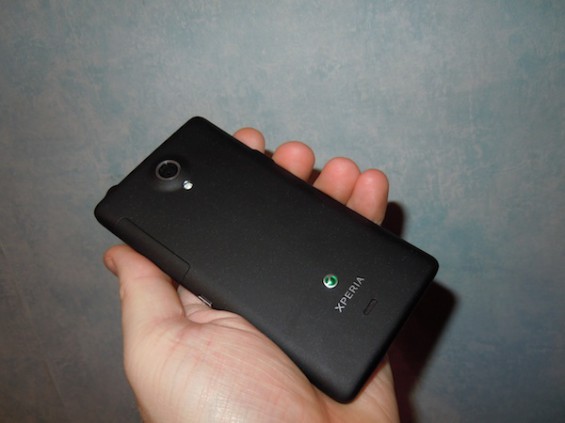 On the back you have a 13 megapixel camera… yes that's right – a 13 megapixel camera! To be honest there is little difference between a 12 and a 13 megapixel camera apart from the fact Sony can now claim to have the largest camera sensor on an Android phone, a great selling point seen by Nokia on their PureView 808 which has a whopping 42 megapixel camera.
At the bottom there is the Sony logo which looks like the one seen on Sony Ericsson even though this is a Sony phone (no Ericsson here!), there is also the Xperia badge and a speakerphone which, even when cranked up to full volume, produces rather good overall audio quality.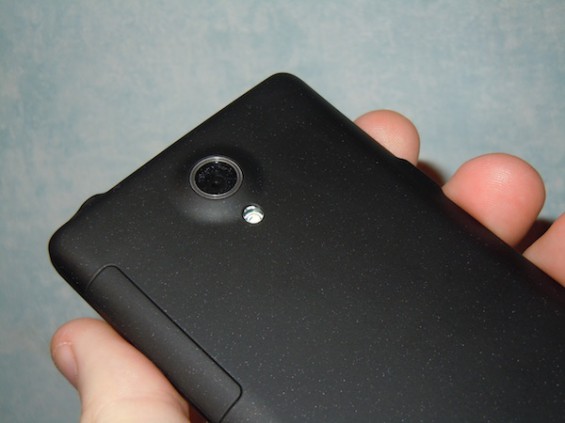 Below the camera is the LED flash. It's good indoors and helps to make an item light enough to capture enough detail and to produce a decent photo.  Something I would like to see added to these high-end camera phones is a xenon flash. This has only been seen on one Android phone in the past (from Motorola) but it makes a big difference when taking photos in less than perfect lighting conditions.
As you can see by the pictures above (all unedited) the LED flash does a good job at lighting up the item enough to capture enough detail. However, when taken outside in cloudy conditions the Xperia T suffers from the low lighting and, whilst it does capture a lot of detail, the lack of light makes the final picture come out quite dark.
The Xperia T is great for photos of people or particular items, but for landscape shots it falls short against some other great phones such as the Galaxy SIII or iPhone 5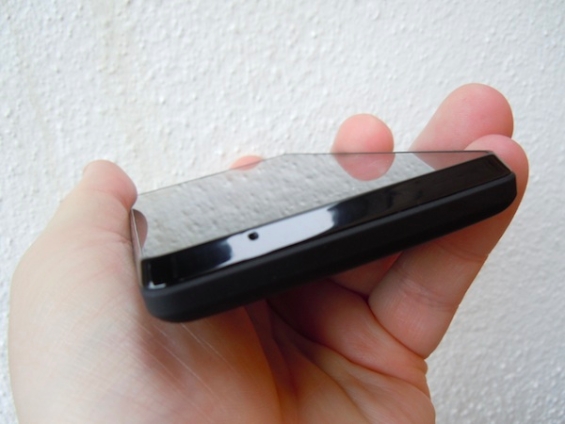 The bottom of the phone has the microphone which – when paired with the microphone on the top to cancel out background noise – makes using the Xperia T for calls really enjoyable. There's clear voice quality in both directions. Best of all we have been advised by Sony that the Xperia T on Three supports HD Voice, allowing even clearer voice calls when calling someone else with a HD Voice enabled phone.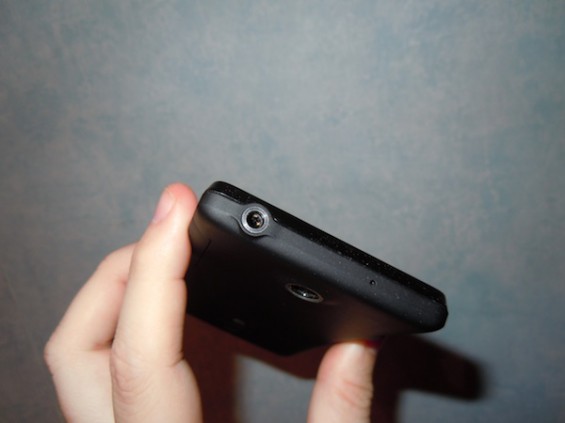 On the top you have the 3.5mm headset jack which can be used with your own headset or the one supplied. The good thing is the one supplied in the box is actually rather good, which is not too surprising due to Sony being big on their Walkman brand. Even the music player on the T is branded "Walkman". Next to the headset jack is a microphone to help with noise cancelation.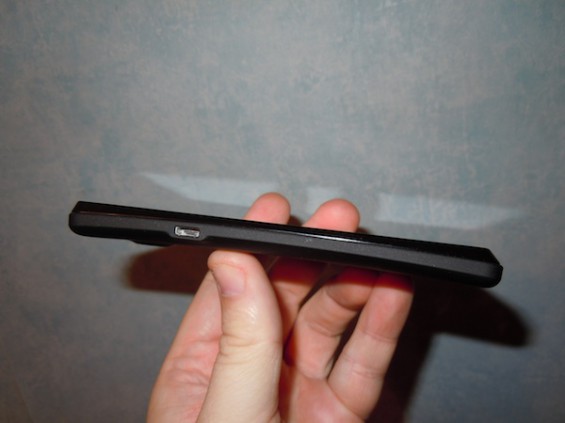 The left side has the micoUSB port. This is used to charge the phone or for plugging into a computer to transfer content. You can also use it as a USB modem, with the Xperia T having DC-HSDPA to kick out 42Mbps with a realistic possible maximum of around 20Mbps – more than usable when on the move if paired with a decent data package.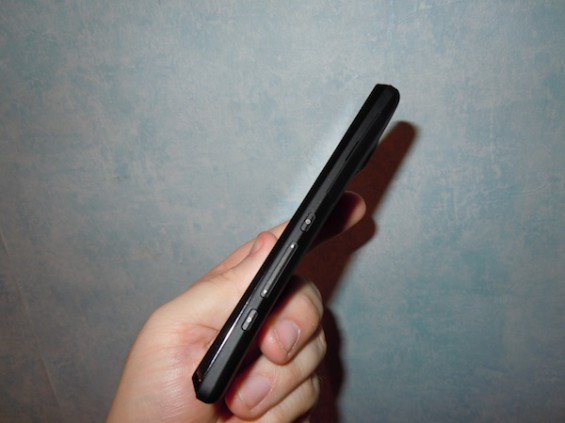 On the right hand side you have on/off single button in the middle. The volume up and down buttons sit next to it. As expected with Android phones, the volume buttons not only control the volume in calls but, when used on the main screen, they'll let you switch to silent or vibrate mode too.
Just below this is the dedicated camera button which is a great addition to have. It's something all high-end camera phones should really have these days. One press will open the camera application and then lets you hold the phone like a normal camera. Pressing the button half-way down makes the Xperia T focus and pressing the rest of the way captures the photo.  Another way to focus is by tapping on a section of the screen to focus on that particular area, very handy to take more artistic photos.
 Final Thoughts
Sony have taken their best bits from the Xperia S and improved on them with the Xperia T.  When I was using an S the biggest problem I was those "three little dots" for soft keys. It would often need tapping a few times for it to register a tap. Thankfully on the Xperia T they have removed these and now just have on screen buttons which are MUCH better.
The screen is also fantastic and even with such a large bright screen the battery does not really suffer with in testing we were able to get through a day and not have to compromise in usage.
Whilst the Xperia T is a big improvement over the Xperia S, it is not perfect in all areas.  The camera is very good most of the time, just falling short at close up shots and low lighting conditions when outdoors as you will see from some of the example pictures taken.
Another big let down is lack of the Jelly Bean OS out-of-the-box. Sony have instead launched on Ice Cream Sandwich and promise an update 'soon' for Jelly Bean.  Considering the Xperia S was announced back in January and only about 1-2 months ago got upgraded to 4.0, owners of the T could be in for a big wait.  Sorry to say Sony do not have the best record when it comes to updating their existing phones.
What the Xperia T has to offer will impress many people who are looking for a high end camera phone, yes there are other options out there but come on…. who wouldn't want to own the new Bond phone!
The Sony Xperia T is on sale right now from Three starting from £29 a month or £399.99 on PAYG
Link: Pay Monthly   –   Pay As You Go