Internet on the move is more important now than it has ever been with many people needing to access their online content for both personal reasons and for work.  How many people do you see on a busy train with laptops out and dongles plugged in the side to get online access.
Three are a market leader in getting people online with dongles due to their super fast network and really affordable data packaged with generous allowances.
Now they have upgraded their dongle range to feature the Huawei E3256 which supports the new DC-HSDPA network offering a maximum download speed of 42Mbps, with a realistic speed of up to 20Mbps, more than achievable and than seen on other DC-HSDPA devices such as the new iPad.
Also the great thing with this new dongle is there is not only no CD but no software to install at all instead using any browser as a control panel (this is the case on a Mac anyway).  On plugging in the dongle just type in http://192.168.1.1 just like you do on the MiFi devices and you have an online control panel where you can change settings, check for texts, check signal and monitor your use.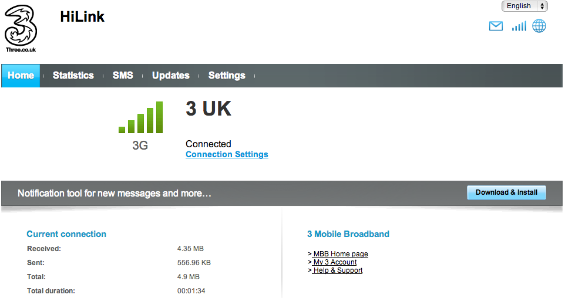 If you don't have mobile internet access at the moment or you are in a large city and want the extra bandwith available with a DC-HSDPA device I highly recommend checking out this new premium dongle from Three.
Even if you do not want to sign up to a long term contract, a PAYG option is also available where you top up for a month with a set allowance of data depending on your needs.
The Huawei E3256 is on sale now
Link: Three Premium Dongle