Battery life. You can't get through the day without someone in your office mentioning .. or cursing it. Now those clever people at Which? have tested battery life on a selection of smartphones whilst browsing.
Screen brightness was set to "maximum" during all tests and they used their own 3G mast to ensure that reception was the same. The results, as you can see below, show a massive lead by the Samsung Galaxy SIII. It browsed for 359 minutes (nearly 6 hours) before the battery went flat. Meanwhile the iPhone 4S and 5 reported just over 3 hours (208 minutes and 200 minutes respectively) whilst the HTC Sensation XL and Lumia 900 ended up at the bottom of the charts.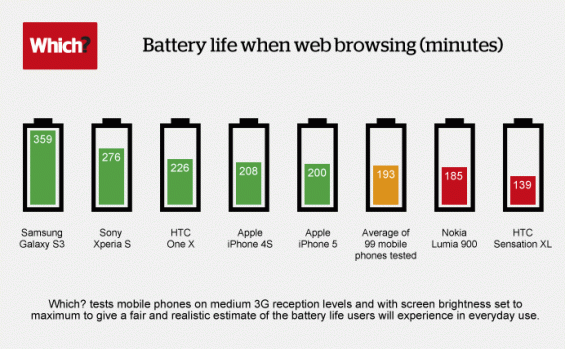 From these results then, we're seeing the Galaxy SII giving almost double the amount of browsing time when compared to the iPhone 4S and 5.
Link – Which?