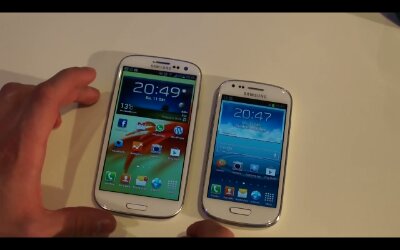 So, we asked Samsung if we could have a few minutes with the SIII Mini. Just a few precious minutes. They laughed at us. They made us cry. They pulled our hair.
Meanwhile, another website called All About Samsung has got hold of it… but hey, they put the words "cool smartphone" into their video description, so we can wipe away those tears a little.
It's got a 4″ screen (compared to 4.8″ on the SIII) and a dual-core 1GHz CPU compared to the quad-core 1.4GHz CPU on the bigger brother… and a 5 megapixel camera at the back instead of an 8 megapixel shooter.
Either way, this video gives you a good comparison between the two. So, is 4.8 inches too much for you, or is 4 inches just right?
Link – YouTube