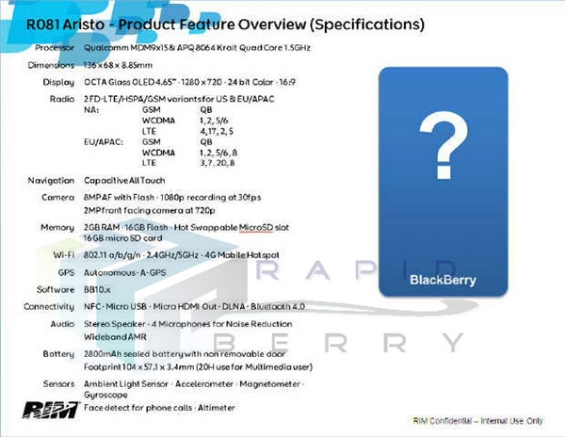 As 2012 draws ever nearer to a close, Blackberry fans will be getting more and more excited for the launch of BB10.  Currently scheduled for release in early 2012, the new OS which was shown off last month at Blackberry Jam is beginning to create a bit of a stir.
To go with the new OS there needs to be some spiffing new hardware.  There have already been some leaks with the Blackberry L and N videos and now there is news of a different handset known as the Aristo.
The handset appears to be rather highly specified with a Qualcomm APQ8064 Krait Quad Core 1.5GHz processor, 2GB ram with 16GB flash memory (with 16gb MicroSD card slot), a 4.65″ OLED 1280 x 720 16:9 capacitive touchscreen, NFC, DLNA, Bluetooth, WiFi Direct, Micro USB, Micro HDMI, WiFi and 4G.
The Aristo is also said to contain a 2800mAh battery which in a sealed unit.  All this is to come in a package measuring just 136 x 68 x 8.85mm.  Also included is an 8mp rear camera and a 2mp front camera capable of shooting 720p video.
Whilst no images have been released, the specs alone show that Blackberry mean business, indeed, one of the accusations levelled at them has been that the current crop of handsets are chronically underpowered.  This set of specifications show that this particular issue is certainly being addressed.
Whether high spec handsets are enough to stop the exodus from Blackberry to Apple and Android remains to be seen but it is good to see that RIM are giving it a good go.