I've recently been looking out for a reliable solution for in-car WiFi which would share the mobile broadband connection between a few devices that I tend to carry around while out and about.
The base requirement was simple yet somewhat difficult to achieve – it had to be completely seamless, for example the 3G/WiFi connection should automatically kick-in as soon as the car ignition is switched on and also shut down as the engine is switched off.
I've considered and actually tested a couple of solutions, neither of which I was happy with, but now I have discovered the Huawei E355 Mobile WiFi Smart adapter and had a chance to review it thanks to lovely people at Expansys UK.

The Huawei E355 looks very much like any other 3G USB dongle on the market, however it is quite a special dongle as it also features a WiFi router allowing up to 5 wireless devices to share a single 3G connection.
From a physical standpoint there's virtually nothing different from a typical 3G USB stick. It's compact, lightweight, plugs directly into USB port, has SIM card and microSD memory card slots as well as an external antenna connector to improve signal reception.
The only different bits are a couple of LED lights instead of one – one for mobile broadband status indication, and the other for WiFi.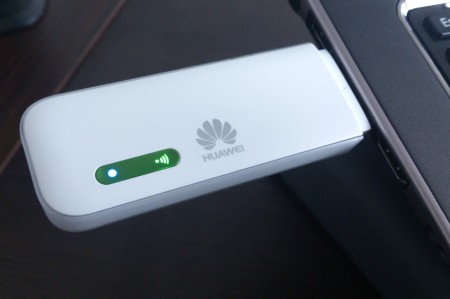 From a technical point of view the built-in modem supports HSPA+ technology offering up to 21.6/5.76 Mbps down/up speeds, while the WiFi is an 802.11b/g/n adapter. The microSD card slot accepts memory card of up to 32GB in size.
The device does require external USB power to operate, hence it can't be regarded as a typical MiFi like the Huawei E586 for instance. An important point to note is that the device doesn't come with any power adapter in the box, however considering how ubiquitous USB standard is, that's not a big deal.
Getting the E355 to work is as simple as slotting the SIM card in and sticking it into the nearest powered USB port. The 3G connection is brought up instantly (I presume it has predefined connection profiles for major providers as the tested unit was unlocked and unbranded) while both factory predefined SSID and WPA2 key are printed directly on the case, so hooking up an external device like a laptop or smartphone over WiFi is a whizz too. Pure quintessence of plug&play.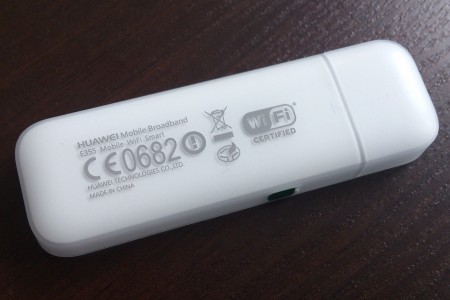 Managing device settings is possible via the web interface, typically available at http://192.168.1.1 out of the box. By the looks of things Huawei must have learned a lot in terms of user experience as the admin interface for E355 is aesthetically clear, intuitive and very easy to use – a complete opposite of the ugly and counter-intuitive web interface found in the E5830 MiFi back from 2009 which I also own. There's also a quite extensive although not particularly exposed "Help" section covering usage of most of device features.

Apart from the aesthetics and fairly typical set of utilities found in such devices, the management UI also offers a few surprisingly nifty features. One of which is ability to send and receive text messages via the SIM card slotted into the dongle. The other is ability to check for the latest device firmware and upgrade it over-the-air. Finally, there's also separate and finger-friendly admin UI for viewing on mobile devices which kicks in automatically when reaching 192.168.1.1 from a smartphone browser – although if offers quite limited management functionality.
The only feature that I missed somewhat was ability to utilize the built-in MicroSD card slot as a network-attached storage (NAS) for wirelessly connected devices. On the other hand, plugging a MicroSD card into the E355 adds an extra feature of a USB memory stick on top of the 3G/WiFi router.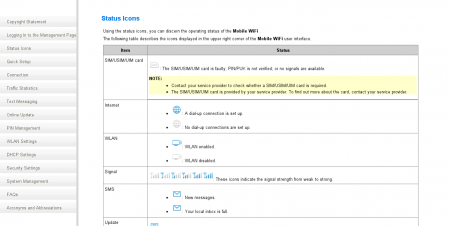 Conclusion
The Huawei E355 is a very nifty little gadget. It's compact, very easy to setup and use, plus it can also work as a USB memory stick. Getting back to my in-car WiFi concept, I probably couldn't think of a better solution than the E355. I simply plug it into the cigarette lighter via the USB charger and it is seamlessly powered on along with car's ignition and gets connected in seconds. Once I finish the ride and turn the engine off, the dongle turns off too – just as the doctor ordered.
Finally, in case of signal reception issues while leaving town, I can always utilize the E355's external antenna connector. Perfect!
Kudos to Expansys UK for sending in the review unit. Huawei E355 is available for £64.99 at the time of writing.