With the arrival of Windows 8 we have a huge shift in direction for the general mainstream PC buying public. Windows 8 has been designed with touchscreens in mind, yes there is a "normal" desktop mode hidden away, but for the consumer things are about to massively change. The lines between tablets and laptops are starting to become blurry, manufacturers are realising that tablets are big business and Windows PCs have always been big business, the mixture of the two is too great to miss out on.
Windows 8 will arrive at the end of October and with it will come a variety of different priced devices that all have drastically different target markets yet will all look very similar. The one part of the Windows 8 release I will be watching with great interest will be the Windows RT part.
Windows has always had several different versions, each offering more or less features than the other. Windows 8 is going to be no different, there will be four versions and one of them is called Windows RT. This will offer a scaled back version of things that is designed to run on ARM chips, like they use in the Android tablets. The benefit of this will be the size of these devices and the battery life. The main trade off will be only being able to install apps from the Windows Store and not having a "normal" desktop mode, there are other smaller differences as well but nothing major.
At the end of October a few different manufacturers will be releasing their new Windows RT devices. Samsung, Asus and Microsoft have all announced their products and specifications, all we need as usual is the prices. So to help you out a little towards the end of the month I've gathered up some info and pictures of these upcoming devices.
One thing that all RT tablet have in common is the fact that Windows RT ships with Office 2013 pre-installed so your Office requirements will be met.
Microsoft Surface for Windows RT
Microsoft announced the Surface tablet a while back and haven't really expanded on it since then. The Surface tablet will be a move into the hardware market for Microsoft and it is a move that probably annoyed some of their competitors. There are two models and we'll just look at the RT model here.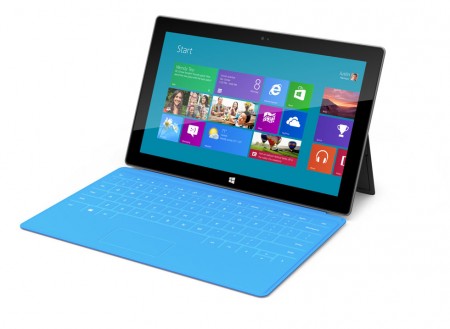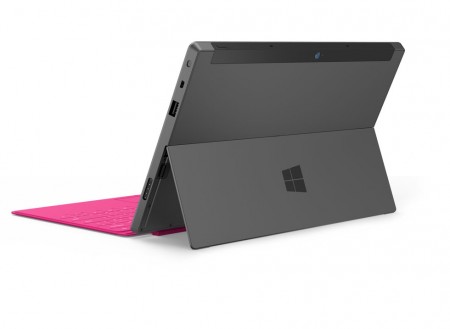 [yframe url='http://www.youtube.com/watch?v=dpzu3HM2CIo']
Not a huge amount is known about the Surface RT tablet, the official spec sheet is intriguingly sparse, they have left out details of the CPU, RAM and a whole host of other specs. It sure does look nice and the choice of keyboards is an interesting one. The Touch Cover being the thinner keyboard and the Type Cover being the more "normal" keyboard.
Display – 10.6" widescreen Cleartype HD display
CPU – Nvidia Tegra 3
RAM – No info yet
Memory – 32GB or 64GB + MicroSD
Dimensions – 9.3mm
Weight – 676g
Connectivity – WIFI b/g/n
Camera – Front and Rear no specs yet
Keyboard – Yes either Touch Cover or Type Cover
Extras – MicroSD slot, Micro HDMI
Asus Vivo Tab RT
The Vivo Tab RT looks very familiar, that's because I own an Asus Transformer Prime. The form factor is a great one and Asus have redesigned the unlock mechanism on the hinge for the Vivo. The spec is pretty decent and the keyboard dock is a great addition especially as it contains another battery. Also the dock has the usual selection of USB ports and memory card slots so the Vivo is going to well connected.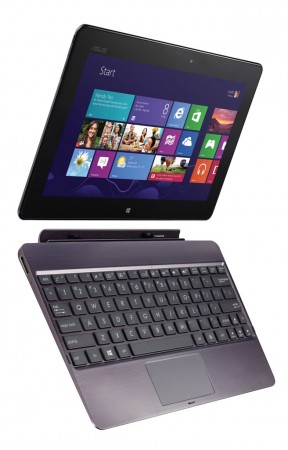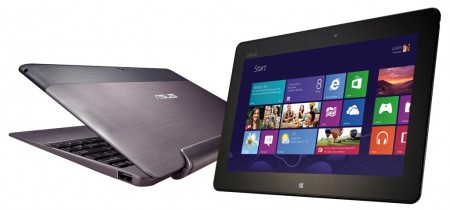 [yframe url='http://www.youtube.com/watch?v=pX76Rsh3XjM']
Display – 10.1" Super IPS+ Panel with 1366×768 resolution
CPU – Nvidia Tegra 3Quad Core
RAM – 2GB
Memory – 32GB eMMC
Dimensions – 8mm (no other dimensions publish yet, it will be virtually the same as a Transfomer though)
Weight – 520g (without keyboard I'm guessing)
Connectivity – WIFI b/g/n, Bluetooth 4.0C & NFC
Camera – Rear 8MP Auto Focus with LED flash, Front 2MP
Keyboard – Yes with extra battery built in
Extras – G-Sensor, Light Sensor, Gyroscope, E-Compass & GPS
Samsung Ativ Tab
The Ativ Tab is a great looking device, following the design of the rest of the Ativ range it is made from aluminium. Spec wise it sounds like a great device, it will probably be cheaper than the others as it doesn't have a keyboard dock, so you'll be relying upon a Bluetooth, USB solution or onscreen keyboard.
Display – 10.1" HD LCD with 1366×768 resolution
CPU – 1.5GHz Dual Core processor
RAM – 2GB
Memory – 32GB or 64GB + MicroSD
Dimensions – 265.8mm x 168.1mm 8.9mm
Weight – 570g
Connectivity – WIFI b/g/n, Bluetooth 4.0, NFC ,
Camera – Rear 5MP Auto Focus with LED flash, Front 1.9MP
Keyboard – No
Battery – 8200 mAh
Extras – Accelerometer, Geomagnetic, Ambient Light, Gyproscope, Grip sensor, Micro HDMI
Dell XPS 10 RT
Barely anything is known about the XPS 10, it was shown at IFA and Dell seem to have told people to keep the spec under wraps. From the pictures at IFA you can see a keyboard dock, a rear camera and some how the fact it has a Qualcomm S4 CPU has leaked out as well. No word on memory or any of the other specs is public yet.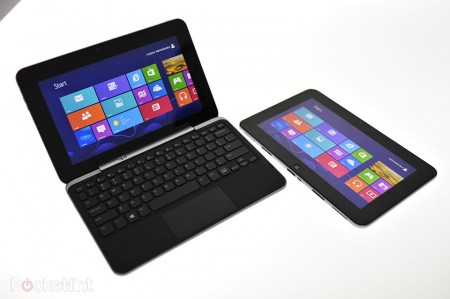 Display – 10"
CPU – Snapdragon S4
RAM – ??
Memory – ??
Dimensions – ??
Weight – ?? (light due to Carbon back plate)
Connectivity – WIFI b/g/n
Camera – Rear unknown spec
Keyboard – Yes via keyboard dock with extra battery
Extras – ??
So overall I like the look of the Asus Vivo Tab RT best, mainly down the published spec and the fact Asus have been selling tablets like this for a while now and the build will be solid. I cannot wait to find out prices for these RT devices. The Samsung is more than likely going to be the cheapest as the spec is a little bit lower and it doesn't come with a keyboard dock. But Microsoft could easily make a move like Google did with the Nexus 7 and barely make a profit on it, thus securing millions of sales.
We shall see at the end of October when Windows 8 and Windows RT are released. We shall also see quite how bad the rumoured app situation is. If you have a lot of cash though you could possibly move up to the Windows 8 Pro models which are like what we have detailed here but heavier, better specced and higher priced. But they will offer a lot more functionality.
Have you got your eyes on a Windows RT tablet or are you going for the Pro models? Or maybe just something totally different like the Note 10.1?
Oh and one last thing below is a gallery of all the images released by the manufacturers so far, enjoy.