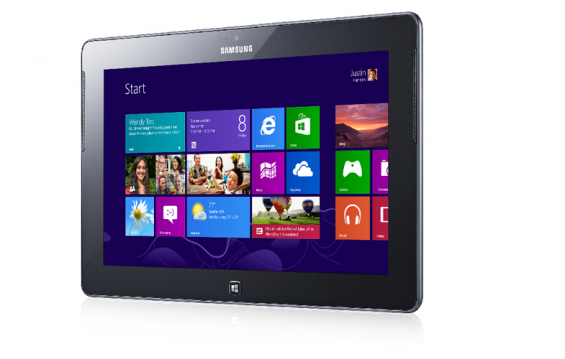 A few weeks ago at IFA Samsung announced a few new products in amongst all of the shiny new phones were some Windows tablets, the Ativ Tab being their Windows RT offering. Windows RT is going to be the scaled down version of Windows 8 for tablets. Online retailer Clove have put the Samsung Ativ Tab up for pre-order with a preliminary price of £549 inc Vat. They are quoting availability as being "End of October" you can pre-order it here.
Windows RT is a bit of an unknown quantity at the moment. Yes we know it's coming soon and we have seen the Microsoft surface announcement but a lot of people are waiting for it to be released before they'll commit to ordering one. The thing that is holding me back is the lack of knowledge about how and if Windows Phone 8 will sync/integrate with Windows RT, if it turns out Skydrive has had a major overhaul and you can sync a multitude of things similar to iCloud I will be happy and probably get one of these. The other thing that is worrying is the apps situation, the Windows Phone 8 SDK still isn't publicly available and there are rumours that the number of apps available on launch will be pretty low.
The Ativ Tab has a fairly reasonable spec, as usual the spec is lower than comparable Android or iOS models, yet the price of the Ativ Tab is higher. Hopefully this will drop shortly after release.
Here is the spec for the Ativ Tab:
Windows RT OS
1.5GHz dual-core processor
10.1″ HD LCD Display
5MP rear Camera
1.9MP front facing camera
32GB Internal Storage
S-GPS & GLONASS
Wi-Fi
NFC Bluetooth 4.0
MicroSD slot (up to 64GB)
MicroHDMI
USB Host
265.8 x 168.1 x 8.9mm
570g
Source – Clove