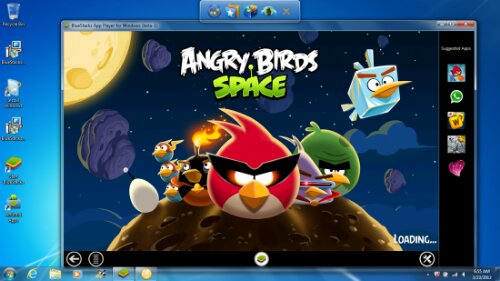 We all remember Bluestacks right? They have been around since late 2011 and they make a piece of software to allow normal Windows PCs to run Android apps and games. Sounds great doesn't it?
Yes it sure does, Bluestacks have massive potential to make something brilliant with their program, they just can't seem to make it as smooth as people expect. Even with the most recent BETA  it was a complicated arrangement of synchronising  with an Android device, downloading  apps through third party markets and changing settings to make certain apps work on your chosen monitor size.
Hopefully things are about to change, as AMD and Bluestacks have struck up a deal to pre-install the Bluestacks software on new PCs using AMD chips.
This deal is being hailed as an answer to the rumoured small amount of apps that are going to be available in the Windows 8 Store. This will be by allowing access to the 500,000 Android apps. In my eyes  I can see one slight problem with that though, how to get them without the Play Store.
AMD plan to create something called the AppZone Player and this will ship on the new PCs and allow people to download and install apps on their PCs.
Again this has massive potential especially with the new breed of Windows 8 devices coming along. It could potentially be quite good, AMD and Bluestacks just need to make the whole experience as easy as it on Android or people just aren't going to use it.
Personally I am really looking forward to Windows 8 and the app situation is not really a concern. It's Windows after all, give it six months and the Windows Store will be brimming with fart apps.
Bluestacks are also apparently in talks with other PC manufacturers trying to get their software pre-installed onto PCs before they're sold.
How does this sort of thing strike you then? Personally I would rather chose to install something like this myself and I normally spend a while clearing up my new PC of bloat for a few days after I've bought one. Would this just be another program to un-install?
Source – BBC