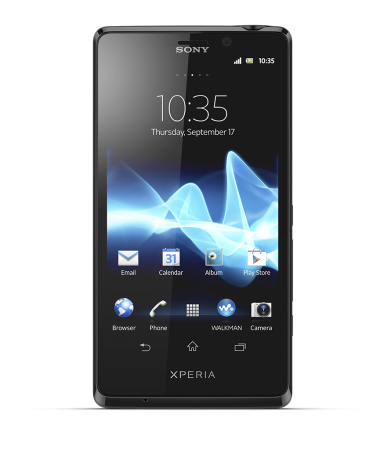 Three are now selling Sony's new flagship Android phone – the Xperia T.
Otherwise known as James Bond's new phone, the device features a class leading 13 megapixel camera, 4.6″ HD screen, 1.5ghz dual core processor, 16gb storage and NFC.
The phone is available now from Three for £29 upfront cost and £34 a month on their fabulous One Plan, or £30 for Unlimited Internet with 500 minutes.
You can also grab one for £399 on pay as you go.
We currently have one of these on loan from Three at the moment, so watch out for our full review very soon.
Link – Three
Full Press release

Featuring in the next James Bond film, Skyfall, the Sony Xperia™ T offers the ultimate HD experience with a great HD screen, Reality Display providing razor-sharp clarity and HD connectivity for linking with bigger screens. The 13 megapixel Fast Capture camera goes from sleep to snap in just over a second with a single key press and as there's an Exmor R Sensor built into the device, it's much easier to take perfect photos even in low level light conditions.

Sylvia Chind, Head of Devices at Three said: "Sony's flagship handset is packed full of smart features to impress you and the slim, ergonomic curved design shows off the stunning display making it easy to use and hold. And with 50GB of online storage with Box, there's no need to hold back when downloading apps, games and music on Three, the network that was built for the internet."

The Sony Xperia™ T is available for £30 a month with an upfront cost of £29 on the Ultimate Internet 500 plan and a guarantee of no surprise out-of-bundle data charges or £34 a month with an upfront cost of £29 on The One Plan.

The smartphone is also available on Pay As You Go for £399.99 plus a top-up. All in One 15 costs £15 and gives 30-day access to All-You-Can-Eat data along with 300 any-network minutes and 3,000 texts. Or All in One 25 costs £25 and offers 500 minutes, 3,000 texts and All-You-Can-Eat data for a 30-day period.

Key Features

4.6" HD Reality Display with Mobile BRAVIA® Engine
13 megapixel camera with Exmor R sensor and Fast Capture
Super fast 1.5GHz dual-core processor
16GB internal memory and 50GB online storage with Box
NFC compatible with two free Xperia™ SmartTags in box