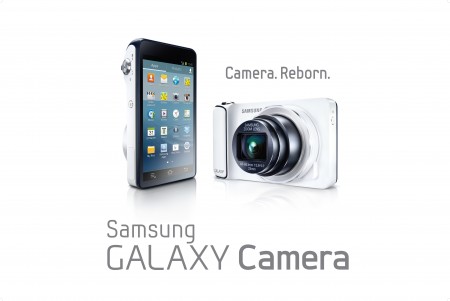 Back in the summer at the Samsung Unpacked press event in Berlin the Galaxy Note II and Ativ suite of Windows devices were announced in a flurry of excitement, but what they also announced on the same day was something they referred to as the 'camera reborn', the Android powered Samsung Galaxy Camera.
This was greeted with what could best be described as interest, but more accurately one would have to say that it was befuddlement. Questions were raised as to why anyone would want a 16MP Android powered camera that didn't come with phone capabilities, but the general consensus was that it would be quite a cool toy at the right price.
We now have the full specs (see below) and a price of £399. The question is whether at that price it is just an expensive toy, or if it has professional applications?
Android 4.1 Jelly Bean
1.4GHZ quad-core processor
4.8 inch Super Clear LCD rear display at 720 x 1280 (306 ppi)
1GB RAM
8GB internal storage with microSD card support up to 32GB
1,650 mAh battery
WiFi + 3G version or WiFI + 4G version
Mali-400MP GPU
Corning Gorilla Glass
16.3 effective megapixel 1/2.3? BSI CMOS
F2.8, 23 mm, 21x Optical Zoom Lens
ISO: Auto, 100, 200, 400, 800, 1600, 3200
A-GPS, GLONASS
The Jury's out at Coolsmartphone towers, but no matter what you say, it's definitely the first of its kind and has features no other camera or phone can offer. At £399 the early adopters with some disposable income will get a really nice bit of kit play with. It's small enough to make an interesting alternative to a point-n-shoot for putting in your hand luggage for holidays, but I can't see it being used by professionals.
If there are enough sales of the Samsung Galaxy Camera, competitors will release similar products, driving prices down and making them a lot more viable option.
Are you considering buying the Samsung Galaxy Camera? If so, what are you planning on using it for (and don't say taking pictures!)?
The Samsung Galaxy Camera is available to pre-order from Clove.