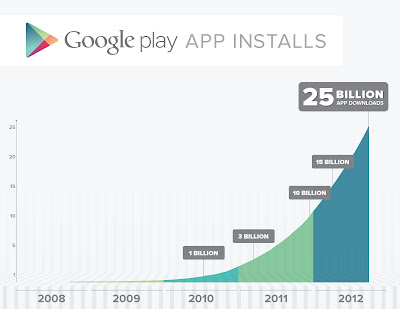 Google Play, Google's app store has hit 25 billion downloads according to the Official Android blog.
As a way of celebration Google have decided to have a sale and offer various apps, books and films (as well as music if you are in the US) for only 25p (well, 25 cents actually so it probably works out even cheaper on this side of the pond!).
Google say:
Every day you'll be able to choose from a collection of apps from some of the world's top developers including Gameloft, Electronic Arts, Rovio, runtastic, Full Fat and more. And all for just 25 cents. We'll also be offering some special collections like 25 movies you must own, 25 banned books, 25 albums that changed the world and our 25 top selling magazines, all at special prices. Visit Google Play a little later today to check them out.

Twenty-five billion is more than twice the distance, in miles, that the Voyager 1 spacecraft has travelled since its launch 35 years ago. It's the amount of time, in minutes, that have passed since some of our earliest ancestors began to set foot in Europe. And now, thanks to all of you, it's a Google Play milestone. We look forward to the next 25 billion.
So, keep checking the Play store, download till your hearts content and let us know in the comments below what bargains you got hold of!!