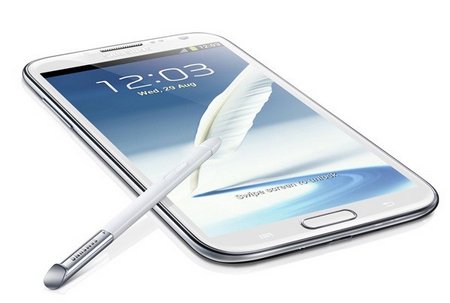 After the unexpected runaway success of the much vaunted Samsung Galaxy Note comes the Galaxy Note II.
It has now been confirmed by Samsung that the new handset, a cross between a phone and a tablet, will be launched in the UK on 1st October and will be initially be available from the Samsung Store in Westfield Shopping Centre in Stratford, East London and across all major UK networks.
The Note II will launch with Android 4.1 Jellybean, Samsungs Touchwiz interface and Google Now. It will feature a 1.6ghz quad-core processor, a 5.55″ Super AMOLED display, an 8 megapixel rear-facing and 1.9 megapixel front-facing cameras with HD video recording.
The full press release is below:
UK AVAILABILITY OF SAMSUNG GALAXY NOTE II ANNOUNCED
Latest Galaxy device available in store on 1st October

25 September 2012, London, UK – Samsung Mobile UK has today announced that the Galaxy Note II will be available from Monday 1st October from the Samsung Brand Store at Westfield, Stratford City and across all major networks in the UK.

The Galaxy Note II launches with Android™ 4.1 JellyBean and an upgraded Google Now service, which includes new features such as contextual search. With a 1.6GHz Quad-Core processor and HSPA Plus, owners of this new device can enjoy super-fast screen transitions and performance when browsing the Web, as well as quick app start-ups.

Simon Stanford, Vice President, UK & IRE Telecommunications & Networks Division, Samsung UK and Ireland said: "The introduction of the original Galaxy Note was a great success – we succeeded in creating an entirely new category and went on to sell more than ten million devices globally. With the Galaxy Note II, we're not only expanding the category, we're also evolving the technology to the point where it genuinely feels as though you're using a traditional pen and paper. What's more, it's a device that everyone can use – whether that's a fashion designer drawing a new design, or young professionals using the multiscreen and pop-up features to edit a document, send an email and browse the web – all at the same time."

"We were delighted by the hugely positive response we received when we first announced the Galaxy Note II at IFA back in August. The Galaxy Note II is a whole new level of innovation and we are confident users are going to enjoy the updated features and design of our latest Galaxy device when it hits the shelves on the 1st of October."

The Galaxy Note II comes with an advanced S-Pen, which together with features such as Air View, S Note and S Planner, make everyday tasks such as annotating documents and sending emails, much easier and more intuitive. Featuring a 5.55" (141mm) HD Super AMOLED display, content can be seen much more clearly and vividly – plus it's much thinner and lighter so it's much easier to read and view content on the Galaxy Note II whilst on the way to work or out at a business meeting.

The Galaxy Note II's 8 megapixel rear-facing and 1.9 megapixel front-facing cameras with HD video recording, include features called Buddy Photo Share, Burst Shot, Best Photo and Best Faces – so the most preferred face or pose of each person from group portrait photos can be selected. Plus AllShare® Play means content, such as videos, photos, presentations and documents, can be shared with a large group in real-time by connecting the Galaxy Note II to Samsung HD TVs, phones, mobile tablets, laptops, and other consumer electronic devices on the same network.

The Galaxy Note II will be available in the UK across all major networks including CPW and Phones4u in Marble White and Titanium Grey.

– Ends –