Falcon for Twitter (beta) is a widget that aims to let you do all your everyday Twitter stuff directly from your homescreen, and I'm not just talking about reading and writing tweets. This clever little widget does so much more.
I know this is the traditional time of year to squabble about which operating system is best, and as an owner of Android and iOS devices I would like to sit on the fence on that one for now, however, I do beleive that one of the stand out features of Android is the ability to run widgets directly from your homescreen. The problem is that very few apps take full advantage of its capabilities.
This is where the clever developers who've come up with Falcon for Twitter have succeeded where so many others have failed.
Firstly, this is a beta version. I don't normally like to recommend betas, as you have to remember that you're using a test release that comes with the caveat that it may stop functioning correctly. However, I've been using Falcon for the past couple of months and I've had no problems with stability. In fact, every update has just brought more and more functionality, to the point where I just couldn't wait any longer to sing its praises.
When you first install Falcon you get a few screens explaining exactly what you get. Once run you have to add the widget before doing anything else, because it's not an app as such.
Once added and you've authenticated with Twitter you're presented with a stylish black rectangular widget (theme is changeable) that soon populates with your Twitter timeline. Across the top are several controls:
a falcon head – takes you to your full Twitter app, if installed (although I very rarely feel the need)
a numerical indicator – how many tweets you have
a refresh button
a toggle to take you between your timeline and your mentions
a new tweet button
a menu button – gives you access to your Twitter profile, direct messages, favourites, search and settings
The timeline is scrollable by swiping with your finger. Once a tweet is tapped the stand out features become obvious: the display changes, showing the tweet at the top and an area for displaying the contents of any links within it.
For example, if the tweet contains a link to a photo or video it will automatically load them high resolution. Not only that though, if there's a link then it will load the web page within the widget – no browser required. Want to navigate awy from that page? No problem, the widget continues to act like a browser.
Also within this window you will see any conversation history and get the ability to reply, retweet, favourite, and share the tweet.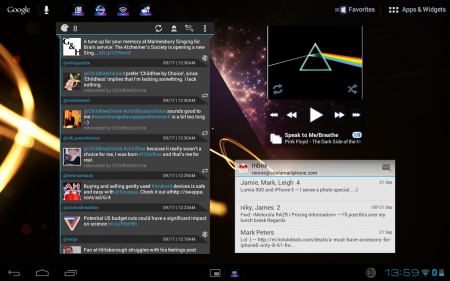 All of this is happening without leaving your homescreen, so on a tablet you can still have your email and or music widgets, for example, visable at the same time, making good use of Android's true multitasking capabilities.
(click thumbnails to see screenshots. Thanks to Ross for the loan of his grub!)
Of course, with any widget there are going to be limitations. For example, there is no access to trends or some of the more advanced features of Twitter, and, being a beta there are quite a few updates to download, but nothing that bothers me at all. In fact, I can't remember the last time I launched my full Twitter client!
I've just re-read my review and I've realised that this may sound like some sort of advert, but best of all, Falcon is free and without adverts, so there's no need for either party to be biased. I can assure you that this review is so positive because this widget is so good, and it just seems to keep getting better!
Falcon for Twitter beta is available in the Google play store, but please note that it's for devices running Android 4.0 Ice Cream Sandwich and above.