Nokia have just announced new app for their Windows Phone-powered Lumia handsets. Best of all, it's EXCLUSIVE "on Windows Phone".
Here's the app in action…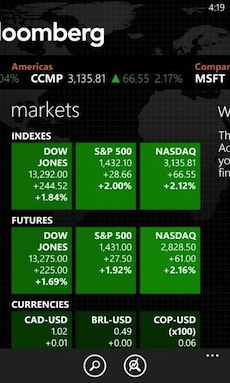 Whilst the addition of big-name apps is a good thing, we have to question the exclusivity aspect, as the app is available for the iPhone, the iPad and Android smartphones.
.. oh, and it's available for Blackberry too…
That's it… oh.. sorry. We forgot that it's even available for older Nokia devices (like the Nokia N95) in the Ovi store.
We think, therefore, that Nokia actually mean that the Windows Phone version of the Bloomberg app will only be available on Lumia devices, and not other Windows Phone handsets like the… ermm… y'know…
Link – Twitter