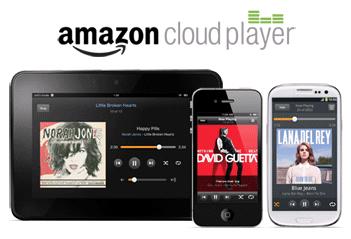 This morning Amazon have posted updates to their Android and iOS UK apps that enables the Cloud Player functionality that the US has had for a while now. It means that any mp3 tracks you have purchased from them in the past and any future mp3 tracks you purchase will all be in the Cloud Player. Also you can upload your own music, although this is limited to 250 tracks unless you pay £21.99 per year.
It is obviously another move to make the new UK models of the Kindle Fire more competitive. At the moment no other Android tablet out of the box has this functionality. Yes a combination of 7Digital and Play Music can achieve something similar. But this move from Amazon is a good one.
Here is the letter from Amazon on their homepage. If you want more info head over to Amazon here.
Dear Customers,

Managing a digital music collection can be a bit messy. You can buy music from your phone, but how do you transfer it to your home or work computer? Also, if you're not regularly backing up your music collection, you can lose it with a disk drive crash.

Today, we're introducing an important new service to give you a simple way to keep your music safe and have it with you, everywhere. It's called Amazon Cloud Player. MP3 songs and albums you purchase from Amazon.co.uk, even those you purchased in the past, will be available in Cloud Player, which means you'll have a secure backup copy of the MP3s you buy at Amazon, free of charge. We've also made it easy to get the rest of the music that's on your computer to Cloud Player, even music purchased from iTunes or uploaded from CDs. We'll match the songs on your computer to Amazon.co.uk's catalogue of over 20 million songs. All songs we match are instantly made available in Cloud Player and upgraded to high-quality 256 kbps audio. Music we can't match will be uploaded to Cloud Player, so your entire digital music collection will be available.

Cloud Player is fully integrated into the all-new Kindle Fire HD and Kindle Fire, pre-ordering now in the UK, and is also available for your web browser, Android phone, iPhone or iPod touch so you can listen to your music anywhere. Your music is safe in Cloud Player, and you can download it to play offline anytime. All your Amazon MP3 purchases and the first 250 imported songs are stored free, or you can import up to 250,000 songs for £21.99 per year.

Managing your digital music library no longer needs to be quite so messy. Import your music now.

Enjoy and happy listening,

Jeff Bezos
Founder & CEO